Hip-hop fans might or might not have seen the recent 13-minute documentary unveiling the Wu-Tang Clan's secret album that is slate to hit stores exactly never. Instead of getting a traditional release, the Wu is releasing the album as just one copy, housed in a handcrafted single box and auctioned to the highest bidder. (Hopefully, the winner will then share it with the world.)
But at least one person has finally, actually heard the thing. Inexplicably, Forbes revealed the exclusive announcement of the album's full concept, and a writer for the site just became the first "civilian" to hear the album.
In a way, it makes sense—featuring the album in Forbes is one way to get the attention of rich, would-be bidders. And on the bright side for the rest of us, the site has also offered us a 51-second snippet of the album, featuring Ghostface Killah wiling out over police sirens and a vintage sounding boom-bap track. Peep the snippet below:
Did you catch all that? Yea, we didn't think so. You could spend hours on Rap Genius pouring over a single Ghostface verse, and still not know what exactly he's talking about. Here's our attempt at giving you a line for line:
Yo, I saw n*ggas cough up blood when they hiccup
(Holding?) they stomach coming back from a stick up
If you don't like it you can keep your half of the bread
I'm not payin', stupid, you halfway dead
And ?!!? say, the same sh*it, crack and drugs
Probably didn't get around ?!!!?
I'm just being honest, lord
There's 444,000 of us, what's up with ya'lls?
"Damn, Tone, leave em alone"— shut the f*ck up
Be quiet before I go in your bag, then I'ma come up
You know how I do, I get busy
If we can get through this near-death sh*t, I'll throw him an extra 50
(EXPLOSION SFX)
Wu-Tang baby, they rock the world
That last line, we should note, is sung by Cher—yes that Cher—who will apparently appear on two tracks.
G/O Media may get a commission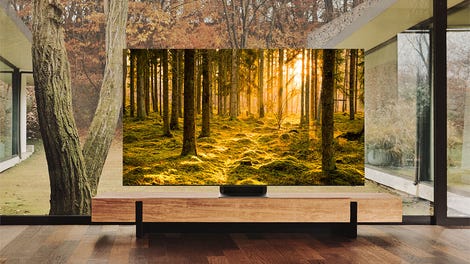 Up to 40% off
Samsung Smart TVs
Before the album is offered up to the highest bidder, the one copy will be toured across the world's museums, galleries and festivals in a handcrafted container carved in nickel silver. Listeners will only be able to listen in with headphones, in order to protect the songs from piracy.
According to RZA and Cilvaringz (the album's producer), the purpose of the concept is to raise hip-hop to the level of a truly respected art form.
"By adopting a 400-year-old Renaissance-style approach to music, offering it as a commissioned commodity and allowing it to take a similar trajectory from creation to exhibition to sale, as any other contemporary art piece, we hope to inspire and intensify urgent debates about the future of music," they explain on the album's website. "We hope to steer those debates toward more radical solutions and provoke questions about the value and perception of music as a work of art in today's world."
In the mini-documentary, Cilvaringz talks about the level of secrecy under which the album was produced. He says that not even the RZA was given a final copy, and that the rappers actually spat to soundalike beats, and not the actual ones used on the album, to avoid any leaks.
Notably, Wu-Tang fans are not happy with the concept. They have launched a Kickstarter campaign to raise enough money to buy the album and share it with the whole hip-hop world digitally.
"The risk is some Saudi oil baron's kid spending his dad's money to collect a trophy and then he'll keep the album to himself and fans the world over will suffer," the campaign reads.
Daniel Rivero is a producer/reporter for Fusion who focuses on police and justice issues. He also skateboards, does a bunch of arts related things on his off time, and likes Cuban coffee.