Tired of scouring for makeup that complements her dark skin tone, 26-year-old Ofunne Amaka created her own solution: Cocoa Swatches. She started an Instagram account showing real samples, better known in the beauty world as swatches, of makeup products from lipsticks to eyeshadows to concealers on real women with darker skin tones, usually using the forearm as the test space. She quickly gained more than 50,000 followers: bloggers, makeup artists, cosmetic enthusiasts, and women just looking for a shade of red or nude lipstick that suited their complexion.
In March, Amaka expanded the community she built for women of color and launched the Cocoa Swatches mobile app, where women could continuously scroll and search for products, read reviews, and get recommendations from beauty insiders. Here was a place where women of color frustrated with their current cosmetics options and the lack of representation in the beauty mainstream could feel included. A place where women of color could vent about the problems they were having in the makeup department and also find solutions.
Amaka not only showcases brands that are making products that work for a broad range of complexions, but she also makes it her duty to call out the ones that are a part of the problem. The cosmetics brand ColourPop is also known to use swatches to showcase their lipsticks, concealers, and eyeshadows on different complexions, and has been applauded for their devotion to diversity. But recently ColourPop released a line of concealers with the darkest colors carrying offensive names like "Typo," "Yikes," and "Dume." ColourPop responded to the outrage from women of color by extending and apology and changing the original names to "Platonic," "Bloom," and "Point Dume." Amaka wrote an op-ed for Essence addressing the issue asking the question of whether companies are being more diverse because they genuinely want to see change or dollars.
This week, Amaka is introducing another component to Cocoa Swatches, a mobile magazine called Skin Deep devoted to all things makeup for women of color, or "beauty exploration with melanin in mind." The magazine features everything from exclusive NYFW backstage photos from MAC to commentary on cultural appropriation and an editorial dedicated to the concept of "nude" for darker skin tones.
G/O Media may get a commission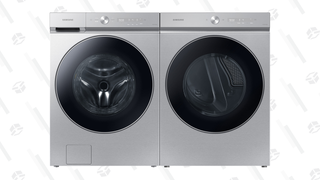 Get $500 back in credit
Last Chance: Samsung Bespoke AI Washer and Dryer Preorder
We spoke with her about what to expect from Skin Deep.
Why did you decide to launch Skin Deep?
It kind of speaks to what people are looking for before and after they see swatches. For example, some people might be looking for a black-owned business cosmetics line or vegan products or different things that people research before they actually buy cosmetics. Then, after you find the brand or the swatch, what do you do with the makeup? So tutorials, inspiration images, or editorials. Similar to a magazine that's more insightful and more intuitive. The swatches are very functional, but as the directory continues to grow I realized that people tend to get lost in it. I think Skin Deep  will give people more direction.
What else can we expect?
We're also going to try to tackle some of the hot topics and hotbed issues that maybe don't get their fair share in mainstream beauty magazines that especially pertain to black women and women of color, whether it's something like skin bleaching or problematic favorite beauty brands. I often read articles and some of them do a good job, but it's not always in their DNA to cover in a way that feels well-researched and considers the viewpoint of the minority, the underrepresented woman.
Will you continue to focus on just makeup or other areas in beauty like hair?
I'm just doing makeup because I feel like there are already so many publications out there that really try to do beauty in general. Cocoa Swatches is really about makeup and I just want to make it makeup focused. I think the hair industry is great and very extensive, but I feel like there are resources like this about hair and not so much about makeup.
Especially when it comes to being specifically for women of color.
Nowadays places are starting to add multicolored arms for their swatches, but then some people are like, "well, the color is not deep enough" or "the dark arm isn't really that dark," and that's a valid criticism. When you go to those slideshows and the last girl is caramel toned and that's the darkest person, you're like, that's great, but I still can't relate. By honing in on this community of women that are already invested within the app, I think they'll find value in it because it will be really tailored to what they're looking for.
Ofunne Amaka will also be featured in an upcoming Fusion story about women in the beauty industry making a change for women of color.
Tahirah Hairston is a style writer from Detroit who likes Susan Miller, Rihanna's friend's Instagram accounts, ramen and ugly-but cute shoes.