North Carolina leaders have been hit with a lawsuit over the state's controversial anti-transgender law, HB2, which forces transgender individuals to use bathrooms that align with their sex at birth and walks backs protections offered to LGBT individuals by their local governments.
The law has prompted a public outcry. San Francisco and Seattle barred public employees from traveling to the state, activists have been protesting outside of North Carolina Governor Pat McCrory's mansion, and private businesses have made clear to customers that they will disregard the law altogether. And now, the American Civil Liberties Union of North Carolina, Equality North Carolina, and three individuals—Joaquin Carcano, Payton Grey McGarry and Angela Gilmore—are taking McCrory, Attorney General Roy Cooper III and chairman of the Board of Governors of the University of North Carolina W. Louis Bissette Jr. to court.
The lawsuit argues that "by singling out LGBT people for disfavored treatment and explicitly writing discrimination against transgender people into state law, HB2 violates the most basic guarantees of equal treatment and the U.S. Constitution."
G/O Media may get a commission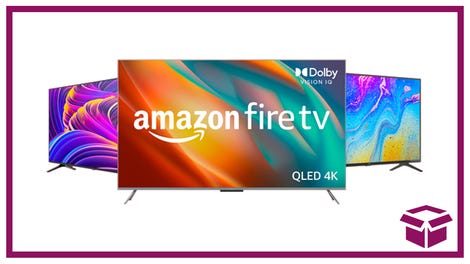 Ooh. stunning.
New Amazon Fire TVs
Carcano, 27, and McGarry, 20, are both transgender men. Carcano works for the University of North Carolina at Chapel Hill, and McGarry is a student at the university. The lawsuit details the difficulties the new law has introduced into their lives. For Carcano, HB2 is a demeaning disruption to his daily life:

Until the passage of H.B. 2, Mr. Carcaño was recognized and treated like all other men at his work at UNC-Chapel Hill… Mr. Carcaño began using the men's restroom at work and elsewhere in late 2015, which occurred without incident for the five months or so before H.B. 2's enactment… preventing him from using the multiple occupancy restrooms that other men are able to use is stigmatizing and marks him as different and lesser than other men.
For McGarry, HB2 could mean coming out as transgender to those students who have only known him as male. The lawsuit explains the possible physical and mental consequences of forcing McGarry to use a women's restroom:

Using the women's restroom is not a viable option for Mr. McGarry, just as it would not be a viable option for non-transgender men to be forced to use the women's restroom. Forcing Mr. McGarry to use the women's restroom would also cause substantial harm to his mental health and well-being. It would also force him to disclose to others the fact that he is transgender, which itself could lead to violence and harassment.
Gilmore is a law professor at the university. She is gay, and the lawsuit explains that the new law has made her feel unwelcome in the state she calls home:

The passage of H.B. 2 has caused Ms. Gilmore and her wife distress, in that it has significantly undone their sense of belonging and value in the state, which is why they moved to North Carolina. Ms. Gilmore and her wife experience H.B. 2 as sending a clear message to them as lesbians that they are not welcome in North Carolina.
So far, more than 28,733 have signed an open letter to McCrory demanding that he repeal HB2. The letter, posted by the ACLU, points out that North Carolina stands to lose business and federal education funding over the discriminatory law.
McCrory says criticism against the new law are little more than "political theater," concluding that "this political correctness has gone amok."
Update
Attorney General Cooper said today that he won't defend HB2 in the lawsuit, where he is named as a defendant.
According to documents obtained by BuzzFeed News reporter Dominic Holden, Cooper said that "not only is this new law a national embarrassment, it will set North Carolina's economy back, if we don't repeal it." He continued, "Over the last 15 years, our office has defended the state, its officials and agencies when they are sued. Our office will continue to [do] that, except it will not defend the constitutionality of the discrimination in HB2."
Cooper went on to explain that he would not argue in favor of HB2 because the bill violates his own office's non-discrimination policy.
In response to Cooper's statements, the ACLU of North Carolina and Equality NC—along with Lambda Legal and the ACLU, also involved in the lawsuit—said "We're grateful the Attorney General stands on the on the right side of history with the many cities, states, businesses and individuals who have come out against this harmful measure."
Cooper added that he expects HB2 to bring on a spate of comparable lawsuits. "We shouldn't have to be dealing with these lawsuits in the first place… This shameful new law has brought them upon us," he said, adding "Discrimination is wrong, period."
Danielle Wiener-Bronner is a news reporter.