"As I open my eyes, I see those deprived," Farah sings in Arabic, before a captivated crowd gathered outside a Tunis music venue. "Out of work, of food, and a life outside their neighborhood." She and her band had been locked out of the venue simply for making politically charged music, but the fiery and empowered Farah took matters into her own hands, giving an acoustic performance on the street. 
The more she sings about the woes of her people, "despised, aggrieved, up to their eyes in problems," under the thumb of Tunisian dictator Zine El Abidine Ben Ali, the more nervous the crowd becomes. By singing the truth, Farah is putting herself in danger of being taken into custody by corrupt police, of being forcefully silenced. But she sings anyway.
As I Open My Eyes, the feature debut of Tunisian filmmaker Leyla Bouzid, tells the story of Farah, a strong, idealistic young woman, who uses music to express her frustration with Tunisian society. That music, however, gets her in trouble with local authorities. Set in 2010, the French-Tunisian film takes place just before the Tunisian revolution, and focuses on the rumblings of political dissent and the energy cultivated by the Tunisian youth to rise up against Ben Ali. And in As I Open My Eyes, the face of that revolution is Farah, an 18-year-old girl who, like most teens, is exploring romantic relationships and is also torn between going to medical school, like her mother Hayet wants, and pursuing music.
Throughout the film, Farah (played by newcomer Baya Medhaffar) and Hayet (played by Tunisian singer Ghalia Benali) butt heads—when Farah sneaks out to sing, Hayet punishes her by ignoring her. But this isn't exactly normal parental tension. Hayet, who was once a passionate and independent young woman herself, has learned to be subdued and suppressed, avoiding doing anything that would draw the attention of Tunisian police. Seeing Farah defy that subjugation terrified her, creating an intense but still very loving battle between the two generations.
"For that generation, the mothers had forgotten their dreams, they forgot their hopes," Leyla Bouzid told me over the phone. "They just were afraid and they just wanted to have a good life for their children but not be in danger."
Eventually, however, Hayet comes to understand that Farah needs to learn things for herself. "The way Hayet changed in the film, learning to trust her daughter and accept that her daughter has her own experiences is really the way that generation reacted to the revolution," Bouzid said. She explained that while the older generations were apprehensive of the activism of the younger generation, eventually they believed in the cause and stood in solidarity.
G/O Media may get a commission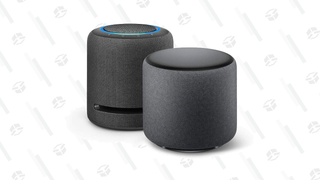 25% off - Prime Exclusive
Echo Studio + Echo Sub Bundle
It's an interesting decision to make a movie that, while it is in a way about the Tunisian revolution, occurs before the uprising began, capturing everyday life in the country. "The film is not reacting to what is happening now," Bouzid said. "It's about the past, because in the end, if we don't remember the past, it's very hard to be relevant for the future." Bouzid explained that the Jasmine Revolution (another name for this campaign, taken from Tunisia's national flower) changed the way that Tunisians used video and film—activists and citizens recorded everything as a means of protest and protection—and that shift also allowed her to address the politics she wanted to discuss head on.
"The film is really a result of the revolution because before it was impossible to talk about police, to talk about abuse. It really allowed me to really talk about what I wanted, which was freedom."
"A lot of people were saying, 'Wow, it make us remember the atmosphere under Ben Ali, and we forgot so fast about it,'" she said, touched by their reactions.
Bouzid was able to capture that struggle for freedom with Farah's story, but she was also able to amplify it with music. As I Open My Eyes wields its soundtrack in an incredibly powerful way, using live music sessions to shape the narrative itself. Bouzid worked with Khyam Allami, an Iraqi-British musician, to create a spirited and resolute rock sound rooted in Tunisian traditional music.
"Today in cinema, it is very rare to have a full sound and really listen to the full sound," Bouzid explained. "For this film, it's very important to have the sound because it's about what they say, the lyrics, but also it's the way that it's giving the depth to the story." If the audience connects with the music, enjoys it and understands it, they'll more deeply feel the loss and the anger when the band is shut down by the Tunisian authorities, adding a new dimension that even the screenplay can't convey.
Between the music and the story itself, As I Open My Eyes gives us a slice of Arab life that is incredible rare in media today: empowered and optimistic. "I want the Arab youth to recognize themselves, because in general Arab cinema is never about teenagers or never about youth, so this kind of youth never finds themselves in film," Bouzid told me.
As she prepares for the film's U.S. release (the film hits New York City theaters tomorrow with a national release to follow), Bouzid also hopes to share that real and encouraging sentiment with Western audiences as well. "It's important that they see that young Arab people are exactly the same, like anywhere else," Bouzid said. "They have hopes, they have desires, they want to be free, they want to have sexuality." For her, it's important to combat the more violent, otherizing portrayals of the Arab world, which, make the Arab life seem completely unrelatable.
"I hope that people see the film and think, wow, this could be my story. Farah is like me, or Farah could be my daughter—whether they're American or French. We see that we're all the same."