China's governing Communist Party is wrapping up its annual leaders' meeting today, which this year involves coming up with the nation's next five-year plan, or the "shisanwu," which includes economic and social policies.
Never heard of the shisanwu before? China's official state news agency, Xinhua, is here to help. They tweeted a link to this video, which features, among other things, an image of what looks like Chinese President Xi Jinping dressed up as David Bowie:
It's a huge deal./Like how huge?/Huge./Like China huge?/Yeah, China huge./Oh, that's really big.
The studio credited with the video is not overtly connected to the Chinese government, Quartz writes, but is pretty obviously pushing the party line in all their work:

Fuxing Road Studio, the production company behind the video, is evasive. It has never introduced itself as a state- or Party-backed production company, or provided credits for its filmmaking crew, but its message in unambiguously pro-Party.
G/O Media may get a commission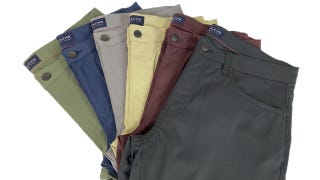 JACHS NY Fall Stretch Tech Pants
Some Weibo users in China are loving the video, which is being seen as a viral hit for overseas audiences:

"China's international image has again blown the world away with its adorableness," wrote one Weibo user:
Another user gushed about the song and said it's a "big hit overseas":
"Why did I listen to this song before bed?" asked another user (we can sympathize, it's really very catchy), adding that the foreign media is also calling the song a hit:
If you want to know what China's gonna do/Best pay attention to the shisanwu/The shisanwu/The shisan what/The shisanwu.
Isabelle Niu is a digital video producer at Fusion.
Nidhi Prakash is a journalist in NYC via Sydney, London, Santiago, Auckland, Mumbai. She reports on international news, healthcare, labor news, and more for Fusion.