Sean Gray's breaking point came in November. The owner of two well-regarded punk rock record labels – Accidental Guest Recordings and Fan Death Records – faced a bummer of a day after getting laid off from his day job.
As a devoted music fan, he wanted to blow off steam with a couple drinks and a night of his favorite bands. But his heart sank when he checked the venue details online for the show he wanted to attend—he wouldn't physically be able to get inside and participate.
Gray, also the singer of a band called Birth (Defects), has cerebral palsy and uses a walker. And the venue he wanted to visit that night, the Pinch, in Washington D.C., hosts bands in a basement that requires descending stairs to access.
So Gray got, for a moment, righteously pissed off—and then he looked to the central tenet of punk rock culture: d.i.y., or the ethos of do-it-yourself. "I was going to call out the venue itself, instead, I took a step back," he recalls. "I thought, 'Well, I've gone to shows where I didn't know they were inaccessible and I've been stranded, essentially. I realized that you know what, I don't want other people to have to go through that."
And so, last month, he launched his latest grassroots venture: the web site Is This Venue Accessible, meant to document which music venues throughout the U.S. are  accessible for people with disabilities. The goal is to combine volunteer efforts with crowd-sourced information from users to provide detailed breakdowns of venue features like stairs, bathrooms, doorway widths, and overall practicality in getting around.
G/O Media may get a commission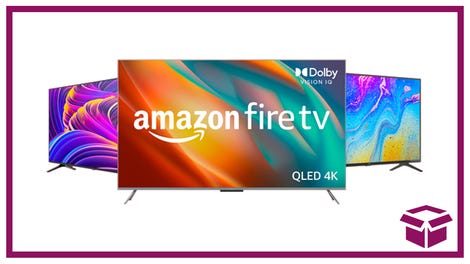 Ooh. stunning.
New Amazon Fire TVs
For those unfamiliar, yes, the Americans With Disabilities Act requires basic accessibility measures to enter an actual bar or restaurant, like ramps up from a curb and so on. But that doesn't necessarily apply to all of an establishment's various areas once you get inside. The main floor entrance of a bar, for instance, might be accessible, but if the actual music or main socializing takes place elsewhere, the same rules might not all apply.
"Going to shows is a social experience," says Gray. "Sometimes I don't even have the option to do a lot of the social things that able-bodied people are able to do at shows because of something like stairs leading up to a bathroom, or the fact that the bathroom door is super narrow."
So far, Is This Venue Accessible is pretty bare-bones, hosted on a  free Tumblr with information on just a handful of venues, mostly around Gray's D.C. punk-ish scene. But he plans to soon expand the site and its tech, making it easier to navigate for the visually impaired.
In addition to providing a service for music-lovers and would-be show-goers, Gray also wants to tilt the onus of inclusion towards performers. He hopes artists will soon check the site before deciding whether to accept a booking—especially in the punk rock and hardcore scenes, which have long paid lip service to fighting oppression.
"I feel like sometimes I've been sold a bad bill in punk. I always thought that punk was about inclusion—we should never, ever layer oppression. If you're excluding one, you're excluding all," Gray says. "It wasn't until I was in my mid-20s that I started to see how kind of fucked this is. People kind of ignore it. Well, you can't change a basement, but you can change people's attitudes and how they think."
He acknowledges that, with the music industry as it is, the ability for a band to turn down a paid booking is a privileged position. Still, he hopes that, at least, artists will pause to think about a potentially large segment of their audience before they choose where to play.
Meanwhile, everyone can check out the site and start submitting details on their local venues. Visit ITVA.tumblr.com and e-mail contact.itva@gmail.com to send in your own listing.
Arielle Castillo is Fusion's culture editor, reporting on arts, music, culture, and subcultures from the streets on up. She's also a connoisseur of weird Florida, weightlifting, and cats.