A week ago the recording artist known as Snow Tha Product posted a video on Facebook with a note reading "URGENT MESSAGE FOR ALL LATINOS."
It's a wake-up call for Latinxs to put aside their differences before it's too late, Snow says.
"I don't want people saying 'oh, this girl is really talking shit about Latinos.' But this is a message that I want Latinos to hear," Snow told Fusion in a telephone interview from her home in Los Angeles.
Snow Tha Product, whose real name is Claudia Alexandra Feliciano, is a Mexican-American rapper who is mostly known for her performances in English. But she dropped her latest song, Despierta, in Spanish to make sure her message specifically reaches the Latino community.
"I don't feel like translating into English because I want it to be like talking to family behind close doors. it's kind of like when you want to talk to family or siblings and you don't want to put them on blast."
G/O Media may get a commission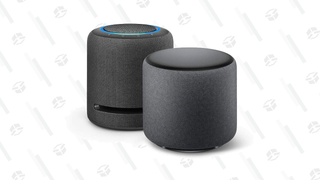 25% off - Prime Exclusive
Echo Studio + Echo Sub Bundle
So far the family is listening. Snow released her video a week ago, 70 days before Election Day, and it already has close to 3 million combined views on Facebook and YouTube.
"I'm not one to air out dirty laundry / But the situation calls for it," Snow says in the intro to Despierta. "All Latinos are one, and if y'all don't get woke soon / Then the Devil is going to take us," Snow raps in the 2-minute song.
Snow says she's been thinking about the message in Despierta for a long time, but the song and video just came together over the past few weeks. The song mixes Southern trap music with bits of auto-tune. The Spanish rap lyrics call out Latino racism and ignorance that has led to self-segregation by skin color and country of origin, rather than uniting as a pan-Latino movement.
Her fans want the lyrics to be understood by English-speakers as well. Within 24-hours of the video's release a YouTube user who noted he was "high as fuck" translated the lyrics to Despierta bar for bar in the comments section.
Snow takes a swing at Donald Trump in the song when she raps "that Donald Duck really frustrates me" and that "Trump is going end this fucking world."
But Snow isn't exactly endorsing the Democrats either. Midway through the song Snow reminds us that Obama promised he would help undocumented immigrants, but didn't exactly come through.
"Latinos put Obama in this same seat," Snow says in the music video, as she sits in the presidential chair in a replica of the oval office. "Yet he still deported more [people] than all the other presidents." Snow says, followed by an auto-tune tone break that stretches on for close to 10-seconds.
"I wanted to have people think about that line. It sucks," Snow told Fusion.
While Trump has talked the talk with his threats to create a deportation force, President Obama has actually already walked the walk.
Since coming to office in 2009, Obama's government has deported more than 2.5 million people—about 23% more than George W. Bush's administration. Obama is now on pace to deport more people than the sum of all 19 presidents who governed the United States from 1892-2000, according to government data.
"I remember when we were told that we would see a quicker way to get legal but there's more deportation now than there's ever been," Snow says. "Where are we now in that conversation?"
Snow says her recording artist career has always had a political aspect to it. She introduced herself in her first single in 2011 by saying "I'm the product of illegals," referencing her own upbringing by undocumented parents.
Snow was born in San José, California but moved around a lot growing up. She was 9 when she first flew by herself from California to Mexico. Snow says she was a "hyper" child, so her mother sent her off to stay with other family members from time to time. Snow has spent time in San José, Modesto, San Diego and now Los Angeles.
Snow's songs first appeared on compilation albums more than a decade ago. Her first studio album, released in 2011, included a song titled "Woke Wednesday", which evolved into Woke.world—something Snow describes as a brand and movement that is "awakening awareness." The site has t-shirts and hats with the woke message.
But it's taken years for Snow to feel like she can record songs about political issues because she says she was afraid of being labeled as political rapper.
"I make party music, music you can vibe to but I have a brain too and I can see the issues that are going on," Snow said.
Now it's a party with a mission.
"I get it we're all different and we've gone through different experiences, but at the same time we all have to unite as one and not categorize ourselves or put people down for being lighter or darker," Snow told Fusion.
"In the end we're the only people holding ourselves back."