On Thursday, the college publication Stanford Daily released emails, written this past winter, in which Niall Ferguson, a historian, Bitcoin enthusiast, and 54-year-old adult man, advised undergraduates to do "opposition research" on a left-wing campus activist.

At the time Ferguson, who holds positions at both Oxford and Stanford, was a member of the latter school's "Cardinal Conversations" program, which brings speakers to campus. Troubled by the prospect that students might protest some of those speakers—as the New Republic notes, The Bell Curve author Charles Murray, notorious for his debunked scientific theories about IQ and race, spoke at Stanford this year—Ferguson urged two high-profile conservative sophomores to "unite against the SJWs." "Whatever your past differences, bury them," he wrote.
Ferguson is no longer a member of the Cardinal Conversations' steering committee—he resigned from the position after the emails in question were brought to administrators—but remains affiliated with the college.
Michael Ocon, a progressive activist on campus, was of particular interest to Ferguson during the time the emails were written. He is referred to throughout as "Mr. O," as if the three were covert operatives running through an intelligence simulation rather than, say, defending the lofty principle of free speech on campus. "Some opposition research on Mr. O. might also be worthwhile," wrote Ferguson to the two boys, who may not yet be of legal drinking age.
G/O Media may get a commission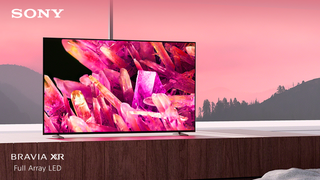 $400 off
Sony 55 Inch 4K Ultra HD TV X90K Series
"Now we turn to the more subtle game of grinding them down on the committee. The price of liberty is eternal vigilance," he said.
"Slowly, we will continue to crush the Left's will to resist, as they will crack under pressure," replied John Rice-Cameron, a sophomore, in one of the email chains. Rice-Cameron is widely known on campus as JRC. He is also, if you can possibly believe it, the son of former national security advisor and self-proclaimed "moderate liberal" Susan Rice.
This year, Rice-Cameron staged what has been described by people on campus as a "coup" to gain control of the Stanford College Republicans group, voting his predecessor out while she was abroad. He has since referred to her as a "miserable failure." Over the last months, Rice-Cameron has accused a professor of being a terrorist and "antifa ring-leader" and rebranded the SCR: As reported in a long profile in Stanford Politics a few days ago, his first moves as president of the club was to throw an event called "Make Stanford Great Again," the invite of which read, in whole:
"Trump is great. Build the wall. Deport criminal illegals. Guns save lives. There are only two genders. Abortion is murder. Defund sanctuary city San Francisco. Taxation is theft. Affirmative action is racist. White privilege is a lie."
According to the gossip newsletter The Fountain Hopper—Stanford has a huge number of student publications, as there is clearly a lot of drama to cover—the event was sparsely attended, with a smattering of Proud Boys in the crowd. Possibly this was because, according to Stanfordsphere (?) the SCR deleted a number of student tickets out of the fear that leftist student activists would show up to yell.
The other student doing some high-level political operative LARPing with Ferguson was Max Minshull, a friend of Rice-Cameron's who writes for Campus Reform about "liberal bias and abuse." As alleged by the Fountain Hopper, Minshull attempted to wrestle control of another conservative group on campus, the Conservative Society, holding a 12:30AM meeting to "impeach" the organization's board this spring after he was forced to resign as its financial officer. (The resignation was allegedly preceded by a claim about the misuse of Conservative Society-appropriated funds to bankroll a Charlie Kirk event.)
Perhaps Ferguson could be forgiven for mistaking Stanford University for the front lines of the culture wars, given all the intrigue: The Fountain Hopper has also accused Rice-Cameron of propping up candidates for student senate using "dark money" from Turning Point USA, a thin but particularly vivid allegation, given today's political landscape.
In any case, here's Rice-Cameron in the non-partisan student magazine Stanford Politics, doing his best impression of a politician accused of bigotry and the forcible overthrow of dissenting factions:
"There's two types of people who enter politics," Rice-Cameron says, a few minutes into the interview: "the people who only care about power — they only care about themselves, their brand, and they like the feel of manipulating people and whatnot — and then you have people who care about principles and care about ideals and care about making the country a better place or making it align better with those principles and ideals. I'm one of those people, I think."
He also told the magazine he is not interested in a career in politics—actually, he's thinking finance. He will graduate from college in 2020. Perhaps by that time he and Feguson will have finally crushed the Left's will to resist.