UPDATE, 2:37 pm ET: Puzder withdrew his nomination for labor secretary.
In a 1990 appearance on the "The Oprah Winfrey Show," the ex-wife of Andrew Puzder, President Trump's nominee for Labor Secretary, says he "vowed revenge" and promised to leave her "in the gutter" after she made public allegations of domestic violence against him.
Fast food executive Pudzer's nomination has already faced trouble from members of the Senate for virulently opposing an increase in the minimum wage while simultaneously being embroiled in allegations of widespread wage theft and other federal labor violations.
During her appearance on the Oprah special, dubbed "High Class Battered Women," Pudzer's ex-wife, Lisa Fierstein, appeared in disguise, wearing large sunglasses, a wig, and using the fake name "Ann," according to Politico. The site obtained the tape for the first time this week from another woman who appeared on the special. Oprah's team also provided copies of the tape to the senators who are set to question Puzder in his confirmation hearing.

"Once I made that public, he vowed revenge," Fierstein told Oprah of the allegations. She also said Puzder told her, "I will see you in the gutter. This will never be over. You will pay for this."
G/O Media may get a commission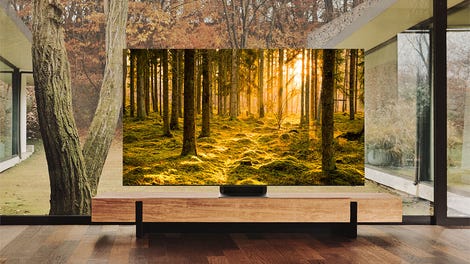 Up to 40% off
Samsung Smart TVs
Powerful men like her ex-husband "don't leave marks," Fierstein also said. "The damage that I sustained you can't see. It's permanent…They don't hit you in the face. They're too smart. They don't hit you in front of everyone."
Fierstein divorced Pudzer in 1987. Eight months after appearing on "Oprah," she retracted the allegations as part of a child custody agreement. Earlier this year, she wrote a letter to the Senate disavowing them and saying she had made a huge mistake by appearing on the show.
George Thompson, a spokesman for Pudzer and Fierstein, told Politico that they are "are close friends today and often spend time together."
"Perpetuating these retracted 30-year-old allegations and an impulsive decision to appear on a talk show is nothing more than a desperate attempt to tarnish Andy Puzder at the expense of Lisa and their family," Thompson said.
A hearing on Pudzer's confirmation is scheduled for Thursday.