It seems that the Presidential Inaugural Committee is still running around asking any recognizable celebrity (even though he claims he definitely doesn't want any fancy celebrities anyway) to join in on the festivities the day Donald Trump takes oath as President of the United States of America.
While the Rockettes, the Mormon Tabernacle Choir, and teen singer extraordinaire Jackie Evancho will be performing, it seems that the list of those who have declined to perform (including Celine Dion, Andrea Bocelli, and even KISS), is steadily growing.

But one artist has technically agreed to perform at the inauguration—with a condition. Rebecca Ferguson, a British singer best known for her appearance on the seventh season of The X Factor, beating out One Direction (yes, that One Direction) stated on Twitter that she had been asked to perform at the inauguration, and that she would agree if they would let her sing "Strange Fruit," a song from the late 1930s that decries racism, and describes the lynching of black Americans.
Yesterday, the singer posted:
I've been asked and this is my answer. If you allow me to sing "strange fruit" a song that has huge historical importance, a song that was blacklisted in the United States for being too controversial. A song that speaks to all the disregarded and down trodden black people in the United States. A song that is a reminder of how love is the only thing that will conquer all the hatred in this world, then I will graciously accept your invitation and see you in Washington. Best Rebecca X
G/O Media may get a commission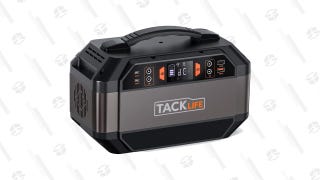 Tacklife Portable Solar Generator
Something tells me that Ferguson will probably not be allowed to sing the song first recorded by Billie Holiday in 1939 and later covered by Nina Simone nearly three decades later. But it's a powerful response to the invitation nonetheless. Simply bringing so much attention to the extremely eerie, devastating song, decontextualized in light of the inauguration, feels profound.