Last month, Ilhan Omar was elected to be the state representative for Minneapolis House District 60B, becoming the first Somali-American woman to be elected to public office in the United States.
This week, while in Washington, D.C., she says she was subjected to threats and Islamophobic harassment by a taxi driver on her way to her hotel from the White House, where she was attending the State Innovation Exchange Conference.
"The cab driver called me ISIS and threatened to remove my hijab. I wasn't really sure how this encounter would end as I attempted to rush out of his cab and retrieve my belongings," she wrote in a post on Facebook about the incident:
In response to a comment on her Facebook post she said, "I plan to report once I am back home safe in Minneapolis, he knows the hotel I am staying at and don't feel safe enough to say anything at the moment."
Omar did not respond to a request for further comment, but a spokesperson told the Star Tribune that she isn't commenting because she wants to focus on the conference she's attending.
G/O Media may get a commission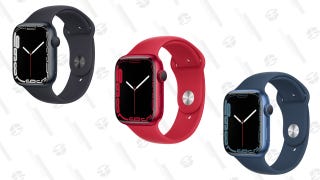 Up To $45 Off
Apple Watch Series 7
On Monday, which was also Arab-American Day, Omar spoke at the U.S. Institute of Peace in D.C. about empowering Arab women by improving education and economic opportunities. Her family fled civil war in Somalia when she was eight years old and were granted refugee status in the United States.
This is not the first time Omar has been attacked since entering politics: In 2014, while she was serving as vice chair for her senate district for the Democratic-Farmer-Labor Party, she was physically assaulted by eight men. She told Fusion that attack was retaliation against her for trying to enforce caucus voting rules.
"Being attacked wasn't a deterrent for me. I don't think I looked at it as a thing where I needed to step back or distance myself from this process," she told Fusion in August, referring to that attack. "Every single election cycle I make a request of people who have dealt with this system that has been oppressive for a lot of minority communities for over 100 years: I ask them to believe in the system and to work and make the effort in changing it, because things are changeable in this country."