The people who create the technology we use everyday are often invisible. Behind every new feature from Google or Pinterest or Twitter is a legion of nameless engineers, known only to Silicon Valley's inner circles.
Tech entrepreneurs Gina Trapani and Anil Dash want to change that. They've created a database called Makerbase that will track the individuals who work on teams creating apps and features at big tech companies. It's a kind of IMDB for the tech industry, and they hope it will help with the Valley's diversity problems.
From their perspective, the problem here is two-fold. The people most visible to those outside the circle are the mainly white, male heads of tech companies. That leads people to wrongly assume that everyone working in tech companies looks like one of the lead characters from Silicon Valley's Pied Piper team. And it can make those circles harder to break into, because people on the outside have no clue where to start.
Makerbase is for everybody, but Trapani and Dash hope that will allow a more diverse group of people to take credit for the technologies we love, and open up more points of contact for people trying to break into the field.
"The social networks that people use to get into the industry are closed," said Dash, a tech industry veteran who co-founded ThinkUp with Trapani, a startup that, among other things, helps social media users analyze their online presence. "Most people have friends that are just like themselves. If you're not in the loop, this will make it easier to get in."
G/O Media may get a commission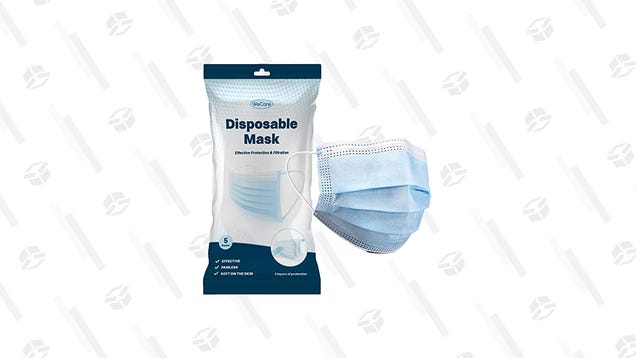 WeCare Disposable Masks With Elastic Earloops- 5 Pack
The guiding principle behind Makerbase is similar to the #iLookLikeAnEngineer campaign that's taking off on social media: there is diversity in tech, it's just not always visible. Highlighting that diversity will in turn, Makerbase hopes, result in even more diversity in the field.
"There are a lot of communities that feel underrepresented or invisible in tech," said Dash. "We're hoping people will see there's someone like them out there. It could be as simple as you see yourself in something and then decide to participate."
Makerbase launched officially at today's first-ever White House Demo Day, which is intended to draw attention to the talents of diverse innovators from across the country.
Announcing the event on Medium last month, White House Office of Science and Technology Policy officials Thomas Kalil and Terah Lyons wrote:

"Metrics that track participation in the American innovation economy show low participation rates for females and under-represented minorities in the technology sector and the entrepreneurial community. Just three percent of America's venture-capital-backed startups are led by women — a figure that drops to around one percent for African American and Hispanic entrepreneurs. Only about four percent of U.S.-based venture capital firms have any female investing partners at all. And capital is predominantly available in just a few places, making high-growth business creation a challenge outside of a handful of coastal metro hubs."
Makerbase consists of profiles for tech industry creators that highlight projects they have either built or contributed to. Users can also search by project, seeing who contributed to a particular project, and contribute to entries themselves. In some ways, it's similar to Github, a code database that has become a LinkedIn for engineers by making their work visible, but it will be more inclusive. Dash said that Makerbase is intended to include everybody on a team, from the person who handled the PR to the person who designed the logo.
Dash said his own career benefited from the kind of networking he hopes will take place on Makerbase. Early on in his career, Dash cold e-mailed Dan Bricklin, the co-creator of the spreadsheet, of whom he was a big fan. Eventually, Bricklin became a mentor.
Makerbase could wind up a powerful tool for diversifying tech, expanding the power of Silicon Valley networks beyond its boardrooms and ping pong tables.