Over the weekend, the New York Daily News published a surprising story full of Hollywood gossip and allegations: fitness guru and TV personality Richard Simmons has been missing from public life for close to two years because he is allegedly being held hostage (and possibly a victim of elder abuse) in his home by longtime housekeeper Teresa Reveles. It's an incredibly weird story that's so outlandish, you're inclined to believe it. Who'd make that up?
This story didn't come out of nowhere. TMZ has reported on Simmons' reclusiveness several times: in 2014, 2015, and now, in 2016. Two years ago, Simmons "uncharacteristically" missed the funeral of longtime friend Joan Rivers, reportedly setting off the alarm bells of those who claim to know him best. Last year, LAPD responded to a tip from a concerned friend and made a wellness check on Simmons but didn't think anything was out of the ordinary.
The facts are this: Simmons, 67, was a very forward-facing public figure, routinely appearing on talk shows and in his own infomercials. Now he's not. But who is Richard Simmons, and how'd he go from America's fitness guru to mysterious recluse?
Let's start at the beginning.

Who is Richard Simmons again? What's his deal?
He's an eccentric personality, known for promoting exercise and other healthy living techniques (and wearing short shorts), mostly through the Sweatin' to the Oldies series of tapes (they came before DVDs—you had to rewind them). Think SoulCycle craze or that guy you know who swears by CrossFit, but on a much bigger scale and with a lot more pep.
He became well-known to the rest of America through his talk show appearances, usually on The Late Show With David Letterman.
As well as cameos on TV and in movies, usually as a talk show guest.
He's definitely a 1980s-1990s pop culture phenomenon, somewhere between E.T. and a Troll Doll, but he managed to stay in the public consciousness, operating a gym in Beverly Hills and continuing his TV appearances into this decade.
What's his background? How'd he become a "fitness guru?"
Milton Simmons was the second of two children born to a pair of former vaudeville performers (his older brother Lenny is also thought to be behind the supposed attempt to keep him out of the public eye). He had a precarious relationship with his father which, friends say, is still an issue. He changed his name to Richard during his teens in exchange for an uncle (named Richard) paying his college tuition.
G/O Media may get a commission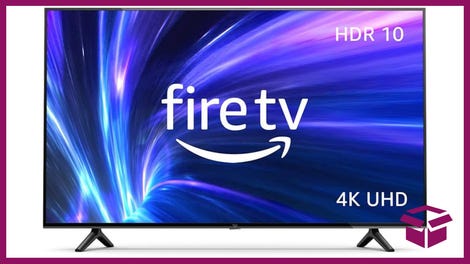 42% Off
Amazon Fire TV 50" 4K Smart TV
As an adolescent, he was overweight (his father cooked and they seemed to get along while cooking together) and had asthma. He was bullied and apparently eventually suffered from several eating disorders. According to one of his autobiographies, Simmons became interested in fitness and healthy living after moving to Los Angeles in the early 1970s. Simmons saw an opening: gyms were targeted toward people who were already in great shape. Simmons took the idea of making a gym with a supportive environment ("You may think you're not worth it. You may think it's too hard to lose weight. But I'm here to say that you are worth it," is a fairly standard Simmons line), where people could lose weight—while having fun!—and learning healthier living habits, and ran with it. It was wildly successful.

So what's happening now?
No one really knows. Friends say they have been cut out of Simmons' life by his brother Lenny, Revelas, and Simmons' manager, Michael Catalano. Those three have made numerous public statements amounting to, basically, "Richard hurt his knee, so he can't teach classes, and is taking time to himself to escape the public eye, after a 40-some years career." The friends who have lost contact are saying that Simmons stopped returning calls and emails and stopped receiving visitors to his Hollywood Hills home two years ago.
Mauro Oliveira told the Daily News that Simmons invited him over in April of 2014 and told him that they would never see each other again. When Mauro protested, he says, Reveles, the longtime housekeeper, chased him out. Another friend told the Daily News that Reveles turned her away when she attempted to visit Simmons on his 66th birthday. These stories seem to check out with the (thin) bits of public information about Reveles' personality that exist.

Does it get any weirder?
Yes. Oliveira, a Brazilian native who was at one point Simmons' assistant, is of the opinion that Reveles, who is Mexican, is controlling Simmons with black magic, citing the food she would occasionally prepare for Simmons as well as a mood swing that saw Simmons suddenly start berating Oliveira during a humanitarian trip to an orphanage in Brazil. Oliveira has written an ebook that turns the situation into some sort of R-rated fairytale.

Have we heard from Simmons at all?
In response to the Daily News story, Richards called into the TODAY show and Entertainment Tonight on Monday to say he isn't being held captive in home…from inside his home.
He denied the Daily News' story to TODAY's Savannah Guthrie, saying, "For all the people that were worrying about me, I want to tell them that I love them with my whole heart and soul and that not to worry, Richard's fine. You haven't seen the last of me. I'll come back, and I'll come back strong."
Later in the day, he gave a similar interview to Entertainment Tonight, reiterating he was fine and in good health. ""I am not kidnapped," Simmons said, "I am just in my house right now."
He posted a similar reassuring message to his official Facebook page:
Hmmm, this is all pretty weird.
You said it.
David Matthews operates the Wayback Machine on Fusion.net—hop on. Got a tip? Email him: david.matthews@fusion.net