A transgender woman filed a lawsuit against the Cincinnati Public Library on Monday, after repeated attempts to have her gender reassignment surgery covered by the library's employee health insurance plan.
Rachel Dovel, 34, has worked at the library for more than 10 years–she's now an electronic line assistant, entering data about new collections. She's suing the Public Library of Cincinnati and Hamilton County and the insurance company, Community Insurance Company/Anthem Blue Cross Blue Shield. Dovel is seeking compensation for the $25,000 the procedure will cost her, which she says has depleted her savings and left her in debt.
She alleges that the library and the insurer are violating her civil rights by denying her coverage to have gender reassignment surgery–a physician-recommended treatment for her gender dysphoria, a diagnosis common among trans people:
"It's difficult for transgender people to find employment or employment with progressive insurance benefits," Dovel told the Cincinnati Inquirer. "If more people were willing to challenge it or other employers see it as something that is required that would be a great outcome too."
Specifically, the lawsuit alleges that the library and insurer are violating Dovel's rights under Title VII of the Civil Rights Act, which protects against sex-based discrimination, the Fourteenth Amendment, which covers equal protection for all people under the law, and the anti-discrimination clause in the Affordable Care Act:
G/O Media may get a commission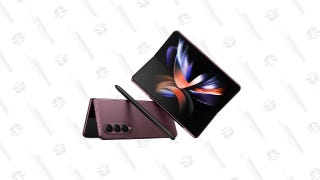 Save Up to $300
Galaxy Z Fold4
The insurance company released the following statement to local press:

We're sensitive to the issues raised by Ms. Dovel in this case. All of Anthem's health plans are fully compliant with the Affordable Care Act and they have been reviewed and approved by appropriate state regulators. As is the industry standard, coverage for transgender surgery is available as an optional rider, or add-on coverage, that employers may purchase.
The library board voted against adding a rider to the employee health plan twice, citing dwindling state funding of the public library.
"We've never actually added any riders to our core health insurance policy before," Chris Rice, spokesperson for the Public Library of Cincinnati and Hamilton County, told Fox19 NOW in June. "It's ultimately a business decision.  It's a quarter of a million dollars to add all the bearing riders to our health insurance policy.  It's what's best for the library and all of its employees."
Dovel filed a complaint with the Equal Employment Opportunity Commission in June after the board's decision, and received a right to sue letter–meaning that the EEOC determined that she has a case on the grounds of discrimination. The EEOC has issued guidelines and amicus briefs in other recent cases making it clear that they believe gender identity is covered under Title VII's anti-discrimination protections.
She will be going ahead with her surgery in November, according to the lawsuit, regardless of whether the library's policy changes.
A spokesperson for the Public Library of Cincinnati and Hamilton County said the library does not comment on pending legal matters. Dovel's attorneys and Anthem Blue Cross Blue Shield did not immediately respond to requests for further comment.