LAS VEGAS — It was still dark outside when hundreds of union members met this morning to start knocking on doors and driving voters to the polls across Nevada. Their mission? To defeat Donald Trump. They've been at it for months. And today is the day that can change everything.
Ivelice Martinez, a member of the Culinary Workers Union, which covers many other kinds of hotel work, feels the same way as her comrades: She doesn't want Trump to win. Unlike many of her colleagues, though, she can't spend the day at the polls. She will be busy working her Tuesday shift at Trump's Vegas hotel.
"I voted last Friday," Martinez told me when we met after her Monday shift. We sat and talked in a small trailer used by the union, where you could see the golden letters marking the top of the over 600-foot tall Trump Hotel on the Strip, just a short drive away.
"I feel very happy, very happy because it is a duty," she said of voting. "I felt obligated. I felt emotional about voting for somebody who I think deserves my vote, because, although Trump is our boss, he does not deserve the Latino vote."
G/O Media may get a commission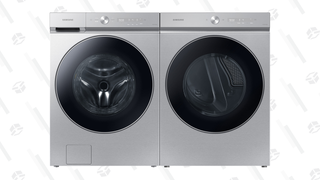 Get $500 back in credit
Last Chance: Samsung Bespoke AI Washer and Dryer Preorder
It was her first time filling out a ballot as an American. Martinez immigrated from the Dominican Republic in 2010, and only recently got U.S. citizenship. "I have only been a citizen for a month, a month-and-a-half," she said. "My two daughters, too."
Martinez has been a housekeeper at the Trump International Hotel Las Vegas for three years. Last year, a majority of the 500 Trump hotel workers voted to form a union, but Trump's team has refused to recognize it and have yet to bargain with them—despite an order from the National Labor Relations Board to do so. The union has encouraged tourists to boycott the candidate's properties and even organized a "Wall of Taco Trucks" to surround the hotel.
They've also worked to vote against their employer in the election. The Culinary Workers Union 226 knocked on over 130,000 doors in the swing state of Nevada to convince their neighbors to reject Trump.
Martinez told me she feels like workers like her aren't respected, and get exploited, even after the union election. They make $3 less an hour than other workers in the same job down the Strip.
"They want one worker to do thousands of jobs, and it's just not possible," she told me. "We need more help because we use our hands, not machines." She added, "It is a lot of work for one person."
She doesn't plan to join her fellow union members at their results party. She has other plans: "I am going to be in my house with my family," she said. Between them, they accounted for 15 votes in Nevada's hotly contested election—"all Democrats," she said.
Martinez thinks Trump won't prevail in his race against Hillary Clinton. And she hopes that when he does lose, he directs some of his attention to the workers in his Vegas hotel. Her fight with her boss, in other words, is far from over.
"We think that he has ignored us and not given the attention that we need because he is in the election and is very busy," Martinez said. "In particular, I hope that he gives us an answer that he will negotiate with us, because we need respect, dignity, and better benefits."
"We want the contract," she said. "We want to negotiate, but he has ignored us."