"You promised you wouldn't kill me," 37-year-old Natasha McKenna says in a newly released video that shows her violent encounter with police days before she died in a nearby hospital.
The video was released by the sheriff's office of Fairfax County, just across the river from Washington, DC. It shows McKenna struggling with six officers wearing biohazard suits and gas masks. Police were trying to remove McKenna from her cell to transport her to another facility. Her hands and feet were cuffed and shackled throughout.
McKenna, who had a 7-year-old daughter, suffered from "a long history of mental illness, including a diagnosis of schizophrenia," reported the Washington Post. She faced charges of assaulting a police officer.
At one point in the video, officers stun her four times with Tasers as they tell her to stop resisting. Shortly after the struggle, which the video shows went on for nearly 20 minutes, McKenna stopped breathing, requiring medical assistance. A few days later, she died in a hospital.
The video of the incident, which happened last February, comes in the midst of increased public scrutiny on inmate deaths and deaths in police custody, spurred by the death of Sandra Bland in a Texas jail two months ago. Each year, federal data show, hundreds of inmates die in local jails without having been convicted of any crime, in part because of unreasonable bail conditions. McKenna's case has also raised questions about the proper treatment and detention of mentally ill inmates.
G/O Media may get a commission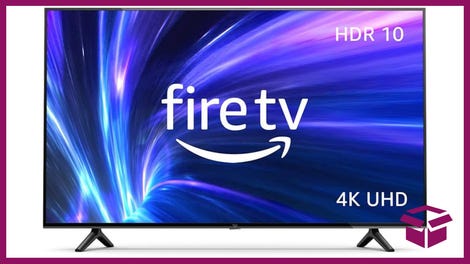 42% Off
Amazon Fire TV 50" 4K Smart TV
Two days ago, prosecutors announced that they would not pursue criminal charges against any of the officers involved.
The state medical examiner ruled that McKenna's death was the result of "excited delirium," a controversial medical condition that is frequently linked to cases where people die after being tasered or having other violent encounters with law enforcement. Deaths by excited delirium happen when someone becomes so agitated that their heart or other vital organs work too hard, essentially overheating the body and overworking its organs.
The condition is not recognized by either the American Medical Association nor the American Psychiatric Association, and many doctors consider it a sham science.
From a Fusion investigation from last year, exploring the use of Tasers, particularly in Florida:

The term "excited delirium" was first coined by Dr. Charles Wetli, associate medical examiner for Dade County, in order to explain cocaine-related deaths for people who did not have enough drugs in their system to overdose. An early controversy with the medical condition came when seventeen women in different parts of the county died of mysterious causes, and Wetli concluded that a cocktail of cocaine and sex had induced the women into a state of excited delirium, resulting in death.

The chief medical examiner later reevaluated the evidence in the deaths and found that the women actually died of strangulation — but Wetli's concept of "excited delirium" endured.

…

Since 1989, at least 47 deaths have been blamed on excited delirium in Miami-Dade County alone. Twenty-seven of those cases involved police, and seven involved the use of a Taser.
Before the jailhouse video, Fairfax County Sheriff Stacey Kincaid gave a statement on why her office was releasing the video. It was a "tragic incident," she said.
"There is no better way for me to share what actually occurred than to make this video available for the community to view in its entirety," Kincaid said in the message.
Daniel Rivero is a producer/reporter for Fusion who focuses on police and justice issues. He also skateboards, does a bunch of arts related things on his off time, and likes Cuban coffee.