Ordinarily, when a place of worship is vandalized, police are called, statements are made, and a community becomes a little more fearful of their surroundings. In Chantilly, Virginia, however, the graffiti that greeted members of the Mubarak Mosque this week prompted a very different sort of response.
When Tariq Amjed arrived at the mosque on Monday morning, he found the walkway leading into the building covered in colorful messages of support and love.
"We believe it was someone in our neighboring community," Amjed, who serves as president of the Central Virginia Chapter of the Ahmadiyya Muslim Community, told The Huffington Post. "We have been here for about four or five years now and we have a beautiful community of people around us. This proves it once more, and we hope they come visit our mosque."
Images of the heartening graffiti were shared by the Central Virginia chapter of the Ahmadiyya Muslim Youth Association, and then by community member Qasim Rashid, whose pictures of the messages racked up thousands of retweets and likes on Twitter.
G/O Media may get a commission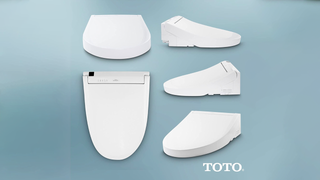 44% off
Toto Washlet Electronic Bidet Toilet Seat
Adding to the poignancy of the gesture is the fact that the Mubarak Mosque was the victim of the other kind of vandalism, just four years ago, as it was undergoing construction. Then, unknown perpetrators caused nearly $60,000 worth of damage by smashing almost every first floor window of the building.
Hibbi Iqbal, who was among the group to first discover the messages on Monday morning, told the Australian Broadcasting Corporation, "it wouldn't surprise us at all if it was a group from any of the other religious communities in the area either."
Given the heightened anxiety felt by many in the Muslim community over Donald Trump's impending presidency, Iqbal saw the uplifting vandalism as a sign of hope.
"If we are just with our friend and neighbors, they will be just with us," he told the ABC. "At the end of the day these are the bonds that will unite us against any forces seeking to destroy."
The mosque has reportedly extended an invitation to the as-of-yet unidentified artists behind the "graffiti" to return so the community can extend their thanks in person.