Every presidential election cycle brings about a few unlikely endorsements. But this cycle is, umm, unusual. And so there's an unusual amount of endorsements you might not exactly expect. It seems like we get a batch of 'em—the defectors, the ones who don't usually pick candidates, and of course the growing ranks of the #NeverTrump-ers—every week, so every week we're going to let you know who they are.
This is not an endorsement - The most notable media endorsement this week isn't an endorsement at all: It's a non-endorsement—or really many non-endorsements. After Texas Monthly took note of how none of Texas's conservative newspapers had endorsed the Republican candidate, The Wrap took the question national and answered it for themselves: A month before Americans go to the polls, Donald Trump has won precisely zero major newspaper endorsements.
Rudy Giuliani's daughter - Rudy Giuliani exploded into the election discourse when he almost exploded a vein in his head during a screaming endorsement of Trump at the Republican National Convention. Last week, he said a "genius" at avoiding taxes would make a better president than "a woman." Well there's at least one woman who would demur: Rudy's daughter Caroline Giuliani. After posting a pro-Clinton Facebook profile pic, Rudy's 20-something daughter confirmed to the New York Daily News that she's supporting Hillary Clinton—and doing so "enthusiastically!"
The cast of Empire - While we've come to expect a steady flow of celebrity endorsements, one thing you don't see all the time is a whole dang TV show coming out for one candidate, all at one time, in a spot aired during said TV show. But that's exactly what happened this Wednesday when a commercial during the Fox drama about a hip-hop mogul and his family announced almost all the cast's support for Clinton over Trump. Just to round out the family feel, Lee Daniels, Empire's creator, directed the commercial.
G/O Media may get a commission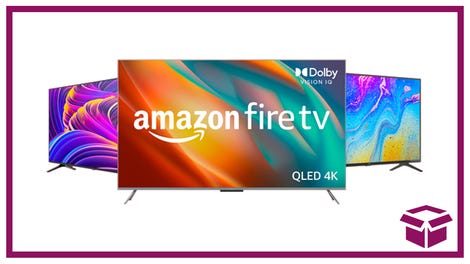 Ooh. stunning.
New Amazon Fire TVs
Clinton's former prosecutor - Michael Chertoff spent a bunch of time in the 1990s trying to nail the Clintons in the Whitewater investigation. Then he spent a bunch of years in the George W. Bush administration, lending a hand with the neocons' disastrous "War on Terror" as the secretary of the Department of Homeland Security. After that he became a fear-profiteer and noted warmonger pundit. Now Michael Chertoff has told Bloomberg View that he supports his erstwhile target Hillary Clinton for president. "Trump's sense of loyalties are misplaced," he told BV's Eli Lake. Plus, Chertoff added, Clinton's more likely to ramp up military intervention in Syria!
The Atlantic - The Atlantic magazine is old as dirt! In the more than 150 years it's been around, however, the editors have only made a handful of endorsements: for a nice fella named Abraham Lincoln in 1860; against Barry Goldwater—and therefore in favor of Lyndon Johnson—a hundred and four years later; and now, in 2016, for Hillary Clinton. While a positive affirmation of Clinton, the stately magazine made sure to let its readers know that they "are mainly concerned with the Republican Party's nominee, Donald J. Trump, who might be the most ostentatiously unqualified major-party candidate in the 227-year history of the American presidency." They would know: They've been around for most of that 227-year history!
Some evangelical pastors in Pennsylvania - Okay, this isn't quite an endorsement. But public radio reporter Todd Zwillich tweeted this week that he spoke to a Republican source who said some evangelicals in the great state of Pennsylvania think that Trump's run is a way to deliver Mike Pence—a Catholic who lines up with the Evangelical religious right on just about everything—into the White House. God's means of getting Pence into the Oval Office, however, seems not so great for Trump:
Zwillich added that this was just a rationalization for many evangelicals to vote for Trump-Pence, but nonetheless it's probably the only ever endorsement-ish endeavor that seems to involve killing off the top of your preferred ticket.
Ali Gharib is a journalist based in Brooklyn. Sometimes he writes about bars and broke down cars.