In the predawn darkness on Tuesday morning, a dozen shivering people in winter coats gathered on a dead-end side street near a stretch of industrial Brooklyn waterfront. Looming above, tucked between warehouses, was the Metropolitan Detention Center, a federal prison. The visitors were waiting expectantly for their aunt or sister or friend: Ramona Brant, who was about to walk out of prison a free woman for the first time in 21 years.
Brant, 52, was convicted in 1995 of conspiracy to sell cocaine as part of a Charlotte, N.C., drug ring. She says she played only a minor part and was coerced by her abusive, drug dealer boyfriend. Even the judge who sentenced her to life without parole said he was "absolutely shocked at the severity of the sentence."
More than two decades later, it seemed that President Obama agreed. He gave Brant a clemency in December, along with 94 other federal inmates. Her release date was Feb. 1.
By 6 a.m. that morning, her family and friends stood expectantly on one side of the street. And then, there she was: Brant, in a blue blouse and black skirt, with a gold cross around her neck and her hair pulled up in a frizzy crown, walked out from behind a white fence.
For a moment, she stood on the other side of the street, silent. A car passed. Then she smiled. "Y'all can come," she said, and her family laughed out with joy, rushing across to meet her and exchanging hugs and kisses. She touched the faces of her relatives, running her fingers over her niece's cheeks and her nephew's afro. "Oh my God, oh my God," she whispered.
G/O Media may get a commission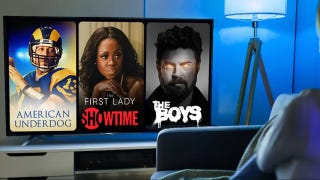 UNDER $1
99¢ Prime Video Channels
After another round of hugs, Brant found herself facing a circle of reporters. At first she was hesitant, overwhelmed. "I don't know what to say," she said. But then she took a breath and turned to the cameras, ready to talk about her freedom.
"It's surreal," she said. "I'm wondering is this real. I was waiting for somebody to say 'Come back, where are you going?'… To be able to walk through that gate and be free and not be handcuffed, it's a great moment."
With poise and passion, Brant talked about the system that kept her locked up and the laws that she says entrap women. Nationally, the number of women behind bars rose by more than 800% between 1977 and 2007, compared to a roughly 400% growth rate for men, according to the Women's Prison Association.
"There's so many women, so many women that are locked up inside that I think society is not aware of. They need to be given the attention, given the stage, and let their stories be told," she said. "Most of us were incarcerated because of a man… I'm not saying that all men are horrible, it's just a mere fact."
Brant will spend the next two and a half months in a halfway house in Charlotte, where she was due to report that evening. After she gets out, she wants to either get a job in the church or join an organization fighting for women's rights in prison.
A sense of joy was infectious among the gaggle of well-wishers surrounding her. "It's nothing short of a miracle," said Ossam Byer, her best friend from high school, as tears fell from his cheeks. "If Obama was here, I'd give him a big kiss and hug him," added Pandora Brant, Ramona's younger sister.
Ebony, a niece, leaned in and snapped Brant's first selfie. Brant marveled at how much she had to learn: social media, for example. "I feel like I'm just landing here from another world," she said.
The family portrait wasn't complete—her two sons, who were three and four when she went to prison and are now in their twenties, were back in North Carolina. Her eldest son Dwight had planned to meet them but had bus trouble. Reuniting with them, and her two granddaughters, whom she had never met in person, would have to wait a few hours, at least.
"Hopefully I get to spoil them," Brant said of her granddaughters.
As the sky got brighter, they all headed out in a couple of vans, leaving the prison in the rearview mirror. The destination: her first meal.
The family crowded into a booth in a nearly empty IHOP in Downtown Brooklyn. After taking a few minutes to consider the menu, Brant ordered a french vanilla coffee crowned with whipped cream, a tall glass of orange juice, a steaming plate of grits, and the breakfast sampler: sunny-side-up eggs, bacon, sausage, and hash browns.
Over breakfast, she talked about her life inside and the friends she was leaving behind. Her serious young nephew spoke out about the racism in the criminal justice system. Two of her nieces danced in their chairs to songs on the radio, while their sister told them to "spread your syrup fast, we're on a time schedule here." They could have been any other family—if you saw them from across the restaurant, you'd never guess the lady in blue was enjoying her first meal outside of prison in two decades.
Brant said she thought it might all be a dream. But she soon realized she was sharing a table with people she hadn't seen in years, which meant "this has to be real."
When her sampler arrived, Brant's eyes lit up. "This is a very unhealthy breakfast," she noted. She took a bite, and another one. "But it's very good."
Soon, she and her family were off for Charlotte, to get to her halfway house and to meet up with her sons. But even as she was taking the first steps—and the first bites—of her new life, Brant said she wasn't going to forget her past.
"I'm not necessarily putting this behind me. This is really what my life has been for 21 years," she said. "I hope that I have the opportunity to take this and be the voice for a lot of women."
Casey Tolan is a National News Reporter for Fusion based in New York City.
Jorge Corona is a filmmaker, photographer, and writer born in Mexico, raised in Texas, and living in New York.