When Eleni Pinnow lost her younger sister Aletha to suicide last month, she made a decision to talk about it—to combat the stigma around depression, and to encourage others to talk about their mental health before it's too late.

In the obituary she wrote for her 31-year-old sister in the Duluth News Tribune, Pinnow addressed depression and suicide directly and eloquently:

Aletha Meyer Pinnow, 31, of Duluth, formerly of Oswego and Chicago, Ill., died from depression and suicide on Feb. 20, 2016.

…

She loved animals, theater, Halloween, Star Wars, cartoons, preparing food for loved ones, and cuddling with aforementioned animals. She did not love France (they know why) and William Shatner (who also presumably knew why). Aletha was fond of making her mom laugh until she literally cried and helping her dad do anything and everything. It is impossible to sum up a woman so caring, genuine, vivacious, hilarious, and sparkly. Those qualities were so obvious to everyone around her. Aletha was her family's whole entire world. She enriched the lives of countless colleagues and students. Unfortunately, a battle with depression made her innate glow invisible to her and she could not see how desperately loved and valued she was.
…

If the family were to have a big pie in the sky dream, we would ask for a community-wide discussion about mental health and to pull the suffocating demon of depression and suicide into the bright light of day. Please help us break the destructive silence and stigma surrounding mental illness and suicide.
Pinnow was the first to come home and find her sister's suicide note on the front porch. In an interview with the Washington Post, Pinnow talked about that moment, and the burden her sister bore of trying to keep her struggles with depression to herself.
"My loneliness and terror on the front porch was nothing compared to the absolute isolation that depression had imposed on my sister. I had to tell the truth," she said.
G/O Media may get a commission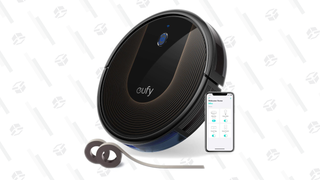 48% Off
Eufy BoostIQ RoboVac
"The lies of depression can exist only in isolation. Brought out into the open, lies are revealed for what they are. Here is the truth: You have value. You have worth. You are loved. Trust the voices of those who love you. Trust the enormous chorus of voices that say only one thing: You matter. Depression lies. We must tell the truth."
Apart from starting a conversation about depression and mental health, Pinnow has started a scholarship in her sister's name.
The National Suicide Prevention Lifeline is available at 800-273-8255.