Prepd is a lunchbox that has raised $2.8 million. It has an app. Fundamentally, that's it.
Though I haven't seen it in person, Prepd appears to be a nicely designed lunchbox, which TechCrunch promised "you won't be ashamed to carry" back in January, when Prepd was crowd-funding. (Why you'd be ashamed to carry a lunchbox isn't really clarified.)
The app is a cooking and weight-monitoring app, promising "an evolving library of recipes tailored to fit a broad range of diets, appetites, and health goals." By using these recipes, which "are designed to fill the [lunchbox's] modular containers, perfectly," users will be able to tell the app precisely what they eat, and therefore, how many calories and nutrients they've consumed. These recipes are to be prepared by nutritionists and dietitians, who Prepd co-founder Chris Place told me via email are being paid with the money generated by pre-orders for the lunchbox.
Pre-orders are something there's no shortage of. Prepd raised a bit over $1.4 million from 12,557 people in a Kickstarter campaign that ended in late February. All but 285 of those people opted for rewards that include some version of the lunchbox. Taken together with additional pre-orders placed via IndieGogo Indemand (a service that lets you take new orders post-crowdfunding campaign) the amount rises to $2.78 million. Add the orders that come in through Prepd's site, and Place estimates they've brought in around $3 million in pre-orders, more than 30,000 lunch boxes. The majority of customers, he explained, have ordered an extra set of the lunchbox.
G/O Media may get a commission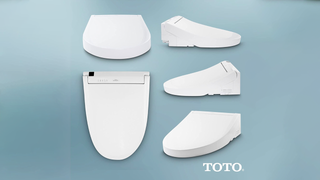 44% off
Toto Washlet Electronic Bidet Toilet Seat
Of the handful of customers I contacted who had backed or pre-ordered Prepd, only two responded willing to explain their purchase.
Lisa, a veterinary student from England, described backing the Kickstarter campaign as a "compulsive decision" in a Facebook message.
"I was really interested because it took a lot of hassle out of trying to make the right amount of food to fit into tubs," she wrote. "I loved the idea that it came with a good app as well, especially since I'd like to lose weight. It just takes the guess-work out of everything, as well as looking stylish."
She's yet to receive her order, since fulfillment has been delayed. So far, none of the approximately 30,000 ordered lunch boxes have been delivered.
Menan, also in Britain, was particularly annoyed by the wait.
"They kept postponing the delivery date, so I got pissed off and told them I don't want it!" she explained, though she maintains she'll get one eventually. "I guess I will buy it when it is in stores, it's soo cool."
A sense that the Prepd boxes are cool seems to be main driving force behind sales. The lunchbox and attendant utensils are sleekly designed, and you can even buy a neoprene sleeve for your Prepd box, just in case you are somehow ashamed to be carrying it.
What the sales pitch behind Prepd obscures is how similar it is to what's existed for decades: managing your weight through a community of people using similar recipes and meals. It just so happens that it's generally been marketed to women; think Jenny Craig or WeightWatchers. As Nellie Bowles has pointed out about food tech, and Soylent in particular, tech has become a "veneer to rub on to otherwise boring, domestic business."
In the case of Prepd, there's also another veneer to be painted on: that of the quantified self. Place told me over email that the nutritional calculation method Prepd uses (i.e. having people make the same recipes) is "far more accurate than manual calculators such as [diet and exercise app] MyFitnessPal."
But Prepd and MyFitnessPal, itself an investment darling from a few years ago, fundamentally offer the same thing. Prepd just comes with a lunchbox. Both offer the idea that by having more easily available data, people will be able to exercise greater self-control. It's just a form of dieting.
If it works, great. If it doesn't, you're out $70. But hey, you've got a lunchbox.
Ethan Chiel is a reporter for Fusion, writing mostly about the internet and technology. You can (and should) email him at ethan.chiel@fusion.net