Three current and former Chicago Police Department officers were charged on Tuesday with conspiring to cover up the infamous police killing of 17-year-old Laquan McDonald.

Patrol officer Thomas Gaffney, 43, former detective David March, 58, and former patrol officer Joseph Walsh, 48, and were each charged with obstruction of justice, conspiracy, and official misconduct, Special Prosecutor Patricia Brown Holmes announced.
"The indictment makes clear that these defendants did more than merely obey an unofficial 'code of silence,' rather it alleges that they lied about what occurred to prevent independent criminal investigators from learning the truth," Holmes said in a statement.
All three are police veterans. March was on the force for three decades, and Walsh and Gaffney each have about 20 years to their names, the Chicago Sun-Times reported. Walsh was former Chicago police officer Jason Van Dyke's partner when he shot McDonald 16 times in October 2014. Walsh resigned from the department last August.
The officers stand accused of lying about and mischaracterizing video recordings of McDonald's killing in an effect to keep the recordings from the public and shield their fellow officer from criminal prosecution. According to the criminal complaint filed in Cook County Court, the three officers also allegedly filed false reports depicting McDonald as an aggressor who lunged at them with a knife and left their fellow officer with no choice but to shoot round after round at the black teen.
G/O Media may get a commission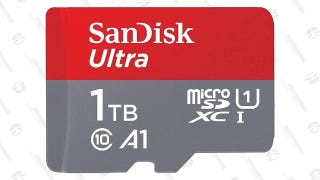 Save $70
SanDisk Ultra 1TB MicroSDXC Card
No representatives for the officers charged made any immediate public statement. The Chicago Police Department sent Fusion the following statement on behalf of Superintendent Eddie Johnson:
"The shooting of Laquan McDonald forever changed the Chicago Police Department and I am committed to implementing policies and training to prevent an incident like this from happening again. Throughout this investigation, CPD has fully cooperated with prosecutors and will continue to do so. We will also continue to implement meaningful reforms that build community trust, provide greater training and resources to our dedicated officers, and make Chicago safer."
The dashcam footage of McDonald being fatally shot—which a judge ordered be released a full year after the shooting, something which Chicago Mayor Rahm Emanuel fought tooth and nail to prevent—showed McDonald make no move toward the officers, but did record Van Dyke start firing on the teenager only 30 seconds after arriving on the scene. Van Dyke was charged with McDonald's murder the day the video was finally released and is awaiting trial.