What does President Obama view as the greatest threats to the United States? The list might surprise you.
Obama's new national security strategy, released, Friday includes climate change, restrictions on gay rights, and cyber attacks as equivalent threats to terrorism and weapons of mass destruction. The Islamic State extremist group, Russia, infectious diseases, and weapons proliferation are all on there too (but that's to be expected).
The 29-page document outlines the White House's foreign-policy priorities for the remainder of his term. It's the first official national security statement issued since 2010. Here's a quick guide to the most surprising inclusions.
What's the threat? The strategy document lists climate change as a strategic risk to U.S. interests.
"Climate change is an urgent and growing threat to our national security, contributing to increased natural disasters, refugee flows, and conflicts over basic resources like food and water," the report reads.
G/O Media may get a commission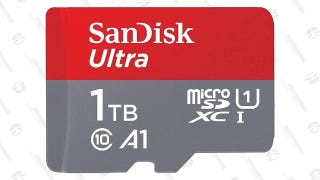 Save $75
SanDisk Ultra 1TB MicroSDXC Card
The document outlines a number of risks posed by climate change. Rising sea levels caused by global warming, for example, could harm coastal regions and damage infrastructure. That could result in major costs to governments around the world.
The report touts actions taken to cut carbon emissions through Obama's 2013 Climate Action Plan and international agreements, but says greater efforts are needed.
"We are working toward an ambitious new global climate change agreement to shape standards for prevention, preparedness, and response over the next decade," it reads.
Why it matters: The extensive attention given to climate change in the report is another sign of how Obama is emphasizing the issue in his second term.
During his State of the Union, Obama said "no challenge poses a greater threat to future generations" than climate change.
The inclusion of climate change in the report is sure to anger Republicans, who control Congress, and the chances of legislative action are slim to none.
But the president's message could help set the stage for a major U.N. climate conference in Paris later this year, where nations will try to strike an international agreement to curb greenhouse gas emissions.
What's the threat? Restrictions on LGBT rights are damaging to the spread of democracy and civil society in places like Africa and southeast Asia.
"We will be a champion for communities that are too frequently vulnerable to violence, abuse, and neglect—such as ethnic and religious minorities; people with disabilities; Lesbian, Gay, Bisexual, and Transgender (LGBT) individuals; displaced persons; and migrant workers," the report reads.
Dozens of countries in Africa, the Middle East, and southeast Asia have criminalized homosexuality.
The strategy document says the U.S. is " providing direct support for civil society and by advocating rollback of laws and regulations that undermine citizens' rights."
Why it matters: When it comes to gay rights, the Obama administration wants to show it's not just paying lip service.
The State Department announced this week it is creating a new special envoy to advocate for LGBT communities.
In the past, Obama has received criticism from gay-rights groups that he has been too cozy with world leaders who have cracked down on LGBT individuals.
On the other hand, some GOP lawmakers have questioned the administration's support for LGBT communities in other countries.
"I am a strong believer in traditional marriage, and do not construe homosexual rights as human rights," said Rep. Chris Smith (N.J.) at a January House hearing.
What's the threat? Obama's plan lists cyber attacks as major threats and claims collective action is needed to prevent them.
"The danger of disruptive and even destructive cyber-attack is growing, and the risk of another global economic slowdown remains," the document reads.
At the same time, the report details ways that the U.S. has acted alone to limit the impact of cyber-attacks. The report says the White House continues to work with Congress on developing a cybersecurity bill and is encouraging other countries to do the same.
"We are shaping global standards for cybersecurity and building international capacity to disrupt and investigate cyber threats," the report reads.
Why it matters: The report allows Obama to renew his push for a sweeping cybersecurity bill in response to last year's attack on Sony Pictures, the largest corporate hack ever to take place in the U.S.
While the U.S. government has blamed North Korea for that cyberattack, the strategy document took aim instead at China.
"We will take necessary actions to protect our businesses and defend our networks against cyber-theft of trade secrets for commercial gain whether by private actors or the Chinese government," it reads.
Jordan Fabian is Fusion's politics editor, writing about campaigns, Congress, immigration, and more. When he's not working, you can find him at the ice rink or at home with his wife, Melissa.