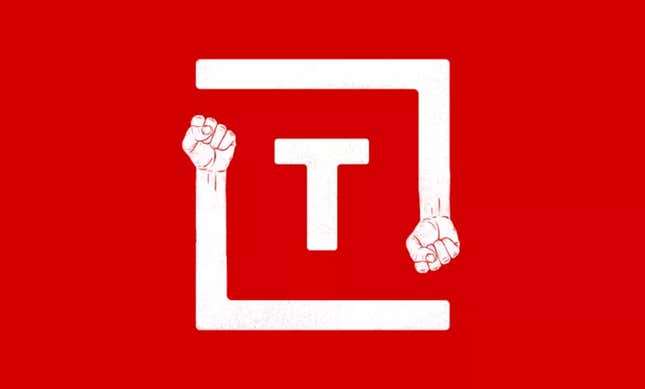 After negotiating with the management of its parent company Group Nine Media on a contract for over a year, the staff of the culinary and travel site Thrillist has gone on a work stoppage.

The staff of the site met at the New York offices of the Writers Guild of America, East (which also represents Splinter and the rest of the Gizmodo Media Group) this morning instead of reporting for work, and released a statement on Twitter outlining their frustrations with the process.
"Our negotiations have been ongoing for more than a year, and suffice to say, our patience in attempting to impress the importance of key issues—including livable salary minimums and fair annual increases—has dwindled," the union said in a statement. "The unit will not agree to the scant, inadequate economic terms Group Nine management has put on the table."
Staff members from Thrillist told Splinter that the union decided to escalate last week. "We had just ended a series of negotiations in July, and we have nothing scheduled in August, and I don't think we have anything on the books for September," entertainment editor Leanne Butkovic said, adding that the goal of Group Nine was to "demobilize us." (After the publication of this post, Butkovic reached out to us to say that there are negotiations set for early September.)

In addition, staff told Splinter that Group Nine had retained the services of notorious anti-union lawfirm Proskauer Rose, LLP. Splinter has reached out to Group Nine for comment, and we'll update when and if we get a response.
Thrillist's road to a union and a union contract has been fought at every step of the way by Group Nine. In February 2017, the organizing committee announced that over 80 percent of staff had signed union cards and requested that Group Nine recognize the union. Group Nine responded with an intense anti-union effort led by founder and CEO Ben Lerer. It didn't work; in a March 2017 vote, the union won a landslide victory. (Another Group Nine property, the animal rights website The Dodo, unionized with WGA East earlier this year after another crushing defeat for the anti-union side.)

As with fellow WGA East member Slate, however, Thrillist's contract process has continued to be drawn out. In July, the Writers Guild of America presented management at both companies with a petition signed by over 300 members of WGA East and WGA West demanding that the companies "settle these contracts without further delay."
Butkovic said that one of the main obstacles was Group Nine's refusal to budge on wage demands. The company's initial proposal was a $40,000 year salary floor for all unionized employees with 1.5 percent merit-based increases; later, this was revised to $40,500 with a 1 percent annual guaranteed increase and a 1.5 percent merit-based increase.
"Our position is that we need guaranteed increases year over year, and we need much higher salary minimums because $40,000 [in New York City] isn't a livable wage, and $500 added to [the offer] is absurd," cities editor Eric Vilas-Boas said.
Vilas-Boas said that the union is "seriously deliberating next steps and [expects] to know more [later] this afternoon." If the site moves to a full-blown strike, it would be a milestone for the digital media industry.
"[The work stoppage] is kind of exciting but we're also pissed off," Thrillist editor and producer Matt Dorsi said. "It's definitely not something that people at the unit have arrived at lightly."
Update, 2:45 PM ET: In an email, Writers Guild of America East spokesperson Molly Beer told Splinter that the action today "is part of the Guild's long tradition of union membership taking action to address issues related to fair compensation, particularly for work done in new or developing formats/industries." She also added that "while many digital-first publications have engaged in a number of actions and escalations in the past," today's action is "the first of its kind for a digital-first publication."
Update, 3:07 PM ET: According to Butkovic, the company has deactivated Slack for everyone in the unit and locked them out of their email accounts. Travel writer Kastalia Medrano posted a similar account on Twitter:
We've reached out to Group Nine again for a comment, and will update when and if we get a response.
Update, 4:02 PM ET: In an email to Splinter, Beer said that Thrillist staffers voted to authorize a strike today with a "strong majority."
"Thrillist Union's action today was the first time digital-first employees have not reported to work and instead gone to the union office for a strike authorization meeting, and voted strongly in favor," Beer said.
Update, 4:25 PM ET: According to Butkovic, staffers in the unit have since gotten access to their Slack and email accounts back.
Update, 9:20 PM ET: As of this update, Group Nine Media has not responded to multiple emails from Splinter requesting comment, but a spokesperson did confirm to HuffPost that the company restored access to staffers' email and Slack accounts, and said that Group Nine expects that Thrillist staffers will return to work on Tuesday. The company also provided the following statement to HuffPost on the work stoppage:
"We support our employees' decision to organize and have been working with them in good faith to negotiate a collective bargaining agreement," the statement read. "We are absolutely committed to the growth and success of all of our employees and we look forward to resolving any outstanding issues and finalizing a contract at the negotiating table as soon as they are ready."

Update, 8/14, 10:48 AM ET: The Writers Guild of America East officially announced on Tuesday morning that the Thrillist union had voted to authorize a strike, with 91% of staffers voting in favor.
Correction, 3:07 PM ET: After the publication of this post, Butkovic told Splinter that there are, in fact, bargaining dates set for early September.