When Alanis Morissette released her now-famous United States debut album Jagged Little Pill twenty years ago this week, she entirely erased her past. Morissette was a Canadian singer-songwriter with a belting voice and a mane of hair that fell almost to her waist. Rolling Stone called her an "angry white female," only to later add Jagged Little Pill to their top 100 albums of the 1990s.
Jagged Little Pill was no cult classic. It sat at the top of the Billboard 200 for 12 consecutive weeks. The album won five Grammys, including Album of the Year. Morrissette was 21 years old, and her songs, about breakups and feelings, made her the youngest artist in history to win the Album of the Year award. She held that title for 14 years until, appropriately, it was taken from her by a 20-year-old girl who had also written an album about breakups and feelings: Taylor Swift.
What made Alanis Morissette such an instant sensation was how relatable her lyrics were to a group of people not typically catered to by angry lyricists. The stage was set for Morissette with the rise of grunge rock in the early '90s and the formulation of the riotgrrrl movement which created spaces for artists to deviate from the formulaic work of pop-dance music that was so popular in the late '80s.
Mid-way through Jagged Little Pill, Morissettte sings that she "sees right through you." In the song, she's addressing a failed date, but it's an effect that this album certainly seemed to have on many people. As Soraya Roberts wrote for Hazlitt, "Morissette was a palatable grunge package who filled a hole for emo sorority girls who knew what it was like to be sad but laughing, brave but chickenshit."
G/O Media may get a commission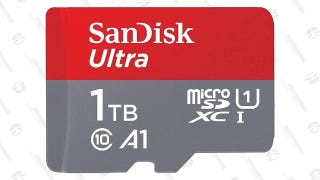 Save $70
SanDisk Ultra 1TB MicroSDXC Card
That comparison, from her song "Hand in Pocket," is one of dozens of references to the life Morissette abandoned to write this album. Morissette signed her first record deal at 16. She produced two respectable albums before Jagged Little Pill, but both of them were incredibly safe. She played into the game every other female pop star in the late '80s and early '90s was playing.
On those albums, Morrissette is a pop star. She's shiny and happy. She dances around. Here's her 1991 video for "Too Hot," a Paula Abdul- and Tiffany-inspired dance number:
This is the Morissette who became so stifled and so frustrated that she left a five-album deal in 1994 to move to Los Angeles and restart her career. The pressure of those first two albums — and the lack of artistic range — caused some of the frustration pent up in Jagged Little Pill. Alanis released Jagged Little Pill as her first album in the U.S. Her two previous albums were pulled from shelves by the time the album came out.
"There was an element of me not being who I really was at the time," Morissette told Rolling Stone in 1995. "It was because I wasn't prepared to open up that way. The focus for me then was entertaining people as opposed to sharing any revelations I had at the time."
Jagged Little Pill, by contrast, is an album full of revelation. ""I've been told a few times now that I don't look like my songs," Morissette said in that same Rolling Stone article. "People expect me to have purple hair and a pierced nose and boobs. Then they meet me, and I'm just… me."
After she moved to Los Angeles, Morissette joined up with Glenn Ballard, who had helped Wilson Phillips write their number one album. She signed to Madonna's Maverick label, and wrote 12 songs that were raw, with lyrics that screamed at ex-boyfriends: "it was a slap in the face/how quickly I was replaced/ and are you thinking of me when you fuck her?"
That song, "You Oughta Know," was the lead single on Jagged Little Pill. It came with a orange-tinted, choppy video that was a huge departure from her earlier work. Here, Morissette is not the focus of the video. Her face is rarely seen clearly; her fans didn't even recognize her. Instead, what Morissette is selling energy.
She spins and screams and the energy builds until, as a listener, that pissed off, tell-all feeling becomes internalized.
That's what makes Jagged Little Pill such an excellent album. So much of music is produced, and choreographed, and created for public consumption. This isn't to say that Jagged Little Pill isn't — but that it doesn't feel like it is. Even 20 years later, Jagged Little Pill is still fueled by a raw, passionate energy that makes it twists and turns through emotions with a brilliance rarely seen in number one albums.
Kelsey McKinney is a culture staff writer for Fusion.