Founded by Time Inc. in 1998 and shut down in 2006, Teen People magazine now mostly exists only on Tumblr and eBay. But we got our hands on every single issue from the year 2000. Each month this year, we're taking a look back at the groundbreaking glossy.
Today: The April 2000 issue.
This is "the rock issue," and Blink-182 and heroin both get cover lines. Interesting.
G/O Media may get a commission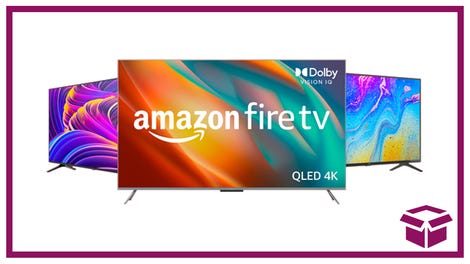 Ooh. stunning.
New Amazon Fire TVs
One of the first ads in the issue is for Guess denim and features a young, pre-Fast and Furious Tyrese. Would you look at the fly on those jeans? It's… long. And those pockets. 👀
Speaking of weird jeans! Another denim ad in this issue features the ladies of 3LW modeling Gasoline jeans. The same-color-but-different-styles tops are an inspired choice.
Page 32: A reader asks about the symbolism of Justin Timberlake's necklace. Instead of discovering a sacred secret spiritual meaning, we learn it's basically a monogram.
What. Is. This. A necklace that is also a watch? But needs batteries? Mmmmkay.
Oh wait! You can match your Chaos to your Nintendo 64?
Page 60 is full of old familiar faces: Eve, Hanson, Sisqo, Jessica Simpson, Blaque!
Do you remember when they teamed up with JC from 'N Sync?
Right across from those guys is an ad for the movie Here One Earth, starring Chris Klein, Leelee Sobieski, and Josh Hartnett. Raise your hand if you saw this in the theater. ✋
Pages 98-104: The cover story about Blink-182. It begins with a warning about the tour bus bathroom — "No pooping," Mark Hoppus instructs the Teen People reporter — and ends with these sentences:

"We don't think of ourselves as any different from the kids at our shows," [Mark] says. "We're just on the stage and they're in the crowd. Soon, duty calls, and over the course of their 90-minute show Travis dons bunny ears, Tom gives a mock lecture on sodomy, and Mark leads the audience in a round of "Silent Night."

Maybe they're just a little different.
But the most notable part of the interview is when the band is talking about encouraging fans to get undressed during shows:

"We believe that people can come to a show, take off their clothes and run around and have a good time, [Tom DeLonge] says. Then he adds, semiseriously, 'We never entice guys and girls under the age of eighteen to get naked. We make jokes so we don't sound like we're preaching — 'Hey, we love to see boobies, but if you're under the age of eighteen, make sure you have a note from your parents.'"

The group's invitations to women to expose their breasts at concerts — another Blink signature — have earned them accusations of sexism, which To finds upsetting. "It's funny, because we'll get on stage and say, 'Mark sleeps with his dad,' and no one calls us incestuous — no one thinks he actually goes home and does that," he says. But if we say, 'We like to see boobies,' the ball of a sudden people think we're sexist that we're out there saying, 'Show us your tits.' We would never say something gross and demeaning like that. We love girls. We absolutely love girls."

Mark agrees: "I would never ever disrespect my mother, my sister or my girlfriend like that."
So, there's a difference between "we love to see boobies" and "show us your tits." Got it.
Pages 110-113 are about teens who do heroin; pages 114-117 contain a Kid Rock feature; and there's Third Eye Blind story on page 121. But more compelling is the "Rock Report" on pages 136-139: Creed, Korn, Limp Bizkit, Sugar Ray, Rage Against The Machine and The Offspring take over the first spread, and we remember those bands. But the second spread…
Totally had forgotten about Orgy, Godsmack, Powerman 5000 and Static-X. Never even heard of Coal Chamber or Drain sth. Oh well.
A bunch of TV stars are in the fashion spread that begins on page 154. Love this photo of Sara Rue, Majandra Delfino and Tamara Mello from Popular looking all witchy and badass.
Yes! Bif Naked! "Moment of Weakness" was a great song.
Pages 176-179: Dave Silveria from Korn wants to show us how to work out. Uh, go right ahead, Dave. We'll watch.
Page 180: Gwen Stefani is the subject of "Then & Wow." Those skinny brows!
Finally, on page 190, we're treated to some year-200 mermaid hair. Glorious.
Next month? The May 2000 issue, starring Jennifer Lopez.
PREVIOUSLY: