Our collective memory of the following '90s-era McDonald's Happy Meal toys ("We love to see you smile" vs. today's "I'm lovin' it") proves that 1) our parents almost never made us home cooked meals, 2) they didn't want to talk to us either so they made sure we had toys with our food, and 3) '90s kids have every right to brag about their childhoods. The times were simpler, the meals happier, the toys more ridiculous.
How many of these '90s throwback toys do you remember?
1993's Halloween McNugget Buddies
Whoever discovered that kids enjoy dressing faux McNugs in costumes for Halloween deserves the highest of fives. The plastic snack replicas had creepy eyes, came with asinine bios (the one for "Rocker McNugget" literally read: "Like, I'm Rocker McNugget and I think rock and roll is really RAD!"), and more costumes than Cher in Vegas.
Just imagine the level of nagging endured by parents as their spawn realized there were endless costumes to collect for their chickeny pals. Two words: GOLD. MINE.
G/O Media may get a commission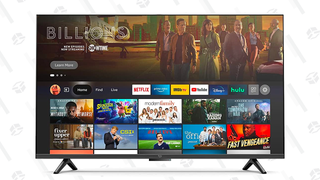 22% off
Amazon Fire TV - 50" Omni Series 4K - Early Access Deal
A bunch of weird cars that connect to become a train
What's better than collecting a bunch of plastic chick-nugs with whimsical expressions? Collecting all manner of bizarre "vehicles" with holes and hooks to become a parade of plastic.
Yup… That's all this stuff is. Each little item connects, and when you physically push the toy centipede all the pieces sort of move if you squint. The train was just a cluster of half-animate pastel nonsense. We LOVED it!
1997's Mighty Duck Pucks
Disney had a Mighty Ducks cartoon that did not feature Coach Bombay or teen quacking, but still merited a toy in the Happy Meals of yore. There were little wheels on the bottom, but these were best-suited as weapons to chuck at your siblings, since they were ridiculously heavy. Plus, you can buy the whole lot on eBay for less than $8.
1992's Michael Jordan Fitness Fun sets
Michael Jordan was the coolest person in the 1990s. He just was! McDonald's knew that and put his face on a frisbee even though he's not known for his disc golf skills. It's unfathomable how a bunch of sealed toys from this collection is only $12 on eBay — oh that's right, it's a cheap toy from a $1.50 Happy Meal 20-something years ago…
1995's Batman Forever Mugs
Batman Forever was iconic: The bat suit had inexplicable nipples on the pecs, which nobody asked for. McDonald's sidestepped that fiasco and included these beautiful Batman Forever mugs in their 1995 Happy Meal bounty.
1996's Space Jam plushes
Doubling down on their "Michael Jordan is cooler than everyone" bet, McDonald's partnered with Space Jam to release a series of plush dolls for their Happy Meals. No snark here, they're pretty cute, and yes, inexpensively available on eBay.
1993's Batman Animated Series set
Pull-and-release racers, awesome figurines — if you don't remember these, you're not a '90s kid.
1992's Nickelodeon Game Gadgets
For some reason, these toys are incredibly memorable. The variety included a purple microphone with slime at the top (perfect for singing any number of '90s hits), an orange blimp you could fill with water and squirt at people, the hand clapping gun (pictured above), and a few other things no one knew what to do with.
See?
1998 Lion King II Plushes
ALL OF THEIR FACES ARE HILARIOUS OMG.
1998 Disney Collections Toys
The mini VHS containers (THROWBACKKKKK 🙌) had little figurines inside instead of movies. You had to get all of them. It was imperative for your school playground cred.

1995's Space Rescue toys
Space and lime green were incredibly popular in the '90s, so it's no wonder half of McDonald's toys landed in those categories.
1999's Mini Furbies
For those of us whose parents wouldn't buy the full-sized talkative alien bird monsters, there were always these rock-hard McD's Furbies — you could poke 'em in the back to make their beak flap, kind of. Hmph.
Mini Barbies
These Barbies were nearly impossible to pose, and having legs stuck to a platform doesn't bode well for beach adventures. Still, these dolls were iconic. Some people even made them into Christmas tree ornaments that are probably kitsching up their holiday parties to this day.
1995's Mighty Morphin Power Rangers toys
Awesome. One of the only sets where there wasn't even one disappointing toy.
1997-98's Teenie Beanie Babies
The uproar remains unmatched. You couldn't drive past a single McDonald's without seeing cars lined up around the corner for these original McDonald's teenie beanie babies. As the craze died down/people realized they had spent their life's savings on pieces of fabric with beans inside, McDonald's still sold them on a relatively regular basis. In 2004 for their 25th anniversary, they added a new set of McDonald's-specific babies:
You can buy the whole lot of the 10 original 1997 McDonald's Teenie Beanie Babies sealed for *drumroll please*
$11 or less on eBay. Yikes…
Akilah Hughes is a comedian, YouTuber, and staff writer and producer for Fusion's culture section. You can almost always find her waxing poetic about memes and using too many emojis. 🍕