Sen. Tim Scott of South Carolina announced Thursday afternoon that he will not support President Donald Trump's judicial nomination of Thomas Farr, a lawyer that built a career off advising and representing the likes of segregationist Jesse Helms and the North Carolina GOP.
The decision comes a day after Scott held up a Senate vote for roughly 45 minutes before ultimately opting to vote for cloture—at that point, the vote was stuck at 50-49 in favor of denying Farr a confirmation vote. Scott's vote knotted things at 50-50, allowing Vice President Mike Pence to deliver the tie-breaking vote and put Farr one vote away from a lifetime seat on the District Court bench.
Scott told reporters after Wednesday's vote that he still wasn't sure what his vote on Farr's nomination would be, as he needed to further review the available information. According to The State, Scott's ultimate decision was swayed by the release of a 1991 Department of Justice memo leaked to the Washington Post, in which the DOJ found that Farr was the "primary coordinator" of a 1984 push by the Helms campaign to intimidate black voters and discourage them from voting.
"I am ready and willing to support strong candidates for our judicial vacancies that do not have lingering concerns about issues that could affect their decision-making process as a federal judge," Scott wrote in a statement, per The State. "This week, a Department of Justice memo written under President George H.W. Bush was released that shed new light on Mr. Farr's activities. This, in turn, created more concerns. Weighing these important factors, this afternoon I concluded that I could not support Mr. Farr's nomination."
With Sen. Jeff Flake of Arizona opposing Farr's nomination on the grounds of both a moral opposition to Farr and his ongoing insistence of a bill to protect the investigation of special counsel Robert Mueller before he confirms any more Trump-nominated judges, Farr's bid for a seat on the federal bench is effectively dead. (For now, anyway—this was Farr's fourth nomination in the last 12 years, put forward by both Trump and George W. Bush.)
G/O Media may get a commission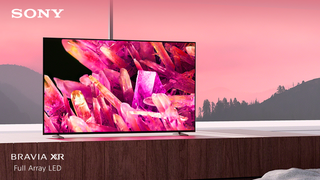 $400 off
Sony 55 Inch 4K Ultra HD TV X90K Series
Thanks to Scott's delayed-but-righteous vote, the folks in eastern North Carolina will spend the next 20 years without having a Helms acolyte on their federal court. And on a day that's included both 69th squadron sky-penises and Laura Loomer freezing her ass off while turning into an ad for the Deadspin Awards, this is by far the best news.