Reading through the profiles in Time's '100 Most Influential People List' will make you feel like you're reading through personal messages of your favorite celebrity's high school yearbook.
Gabrielle Giffords on Malala Yousafzai

Post by Gabby Giffords.
In her profile of Malala Yousafzai, former Arizona congresswoman Gabrielle Giffords, writes that she draws "strength from brave Malala's example" and that "Malala's courage is uncommon. In the face of oppression and bitter injustice, she demands education and opportunity. In the face of violence from the hands of cowards, she refuses to back down."
Pairing Giffords and Malala, who was one of Fusion's "Badass Influencers of 2013," is fitting given that they are both advocates for peace and the empowerment of women.
Dolly Parton on Miley Cyrus

G/O Media may get a commission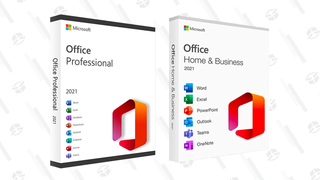 89% off
Microsoft Office Professional 2021 Lifetime License
Country singer and songwriting legend, Dolly Parton wrote about her goddaughter, Miley Cyrus, saying, "If I didn't know how smart and talented Miley is, I might worry about her. But I've watched her grow up. So I don't. The girl can sing. The girl is smart. And she doesn't have to be so drastic. But I will respect her choices. I did it my way, so why can't she do it her way?"
James Franco on Marina Abramovic

He called her, "the presiding deity of performance art," saying, "Marina was someone I studied in my contemporary art history class at UCLA. "I love the simple Marina, the powerful Marina, when the artist is present within her. I trust Marina to carve the artist out of her celebrity and use her celebrity to bring what she stands for into the here and now, looking straight into the eyes of all of us, strangers still, but courageous, curious, inspired, creative participants afterward."
Other notable pairings on the Time's 100 list includes Barack Obama's profile of Pope Francis, Sheryl Sandberg's take on Beyonce as a leader of women, and a profile on Withelma "T" Ortiz Walker Pettigrew by Ricky Martin.