Deflection, paranoia, victimization, and oh yes, Obama-bashing—just an average Saturday on Twitter for a president who stood before Congress just this week and called on Democrats and Republicans to "unite for the good of our country and for the good of the American people."
The problem is Donald Trump can't stop reading right-wing blogs instead of his daily intelligence briefings.
On Saturday morning, presumably before hitting the golf course during another taxpayer-funded trip to his private "Southern White House" resort in Florida, Trump tweeted out a series of rants accusing a "sick" former President Barack Obama of wiretapping his phones last October:
G/O Media may get a commission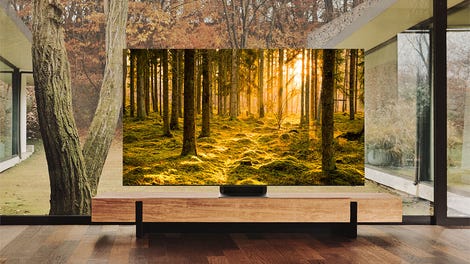 Up to 40% off
Samsung Smart TVs
The tweets, which cited no evidence of the claims, likely came from a story circulating among staff on Friday night and published on the right-wing site Breitbart News, formerly run by his strategist on all things nefarious, Steve Bannon.
The article was a summary of radio host Mark Levin's Thursday evening show aimed at feeding the oppressed white masses of Trump's dwindling base who believe that Obama is running a conspiracy to operate a shadow government and topple the #MAGA administration. Oh, and the aliens are coming, too.
As investigations continue into Attorney General Jeff Sessions' apparent perjury before a Senate Judiciary Committee regarding meetings with the Russian ambassador during last year's presidential campaign, undoubtedly we'll be hearing more about this strange Obama plot to "tapp" Trump Tower. Obama has not yet responded to Trump's accusations.
Asked about possible surveillance of Trump by the Obama administration, a former senior intelligence official familiar with surveillance law told The Washington Post, "It's highly unlikely there was a wiretap on the president-elect."
But by that time, the president seemed to have moved on to more pressing issues, such as his ongoing Twitter feud with Arnold Schwarzenegger, who just quit The Apprentice.
Update: A top policy adviser to former President Obama has responded to Trump's claims, saying that "only a liar" would post such ridiculous allegations. As The Hill reported Saturday morning, former adviser Ben Rhodes tweeted the following:
Ouch.
California Congressman Ted Lieu, along with several other Democrats, also had something to say:
Update (2:25 p.m.): According to The Washington Post, Obama spokesman Kevin Lewis issued the following statement Saturday afternoon:

A cardinal rule of the Obama Administration was that no White House official ever interfered with any independent investigation led by the Department of Justice. As part of that practice, neither President Obama nor any White House official ever ordered surveillance on any U.S. citizen. Any suggestion otherwise is simply false.