If you've been keeping up with all things period lately, you probably know that tampons and pads are still taxed as "luxury items" or how lame the new Tampax Pocket Pearl redesign is. You might even know about the burgeoning world of menstrual cups, which we've chronicled in depth on this site. But did you know the period revolution goes even further?
There's a whole universe of alternative period products out there—spearheaded by the local, the organic, and, frequently, the female—that offer real options for those wary of the Tampaxes and Kotexs of the world. Unless you're a period expert, we doubt you've heard about all of them. So we rolled up our sleeves and did some lady times research for you.
Bear in mind: This list is merely an intro to the blossoming world of period products, and every woman should research and choose the product(s) that works best for her.
Now, without further ado, behold the wide world of alternative menstrual merchandise.
G/O Media may get a commission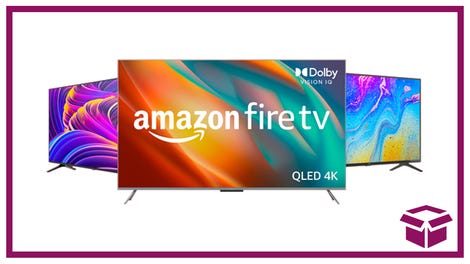 Ooh. stunning.
New Amazon Fire TVs
First, let's talk about period underwear, which has taken both the fashion and reproductive health worlds by storm. Period underwear has garnered significant attention over the past year—but did you know that different brands serve different purposes?
For the uninitiated, there's PantyProp, which makes underwear designed to keep your pad in place.
Then there's Dear Kate, whose undies feature what the company has dubbed "Undelux," a lining made of microfibers that wick away moisture and can hold up to three teaspoons of liquid—great for lighter days. (Dear Kate is expanding into different underwear-disrupting types of apparel as well.)
LunaPads sells underwear for varying flows, too.
Finally, THINX, the most popular and visible period underwear line, uses its own special material and microfibers to keep your underthings from leaking and comes in light to medium to heavy days.
Speaking of LunaPads, let's also talk about cloth pads, which the company sells.
But LunaPads is hardly the only game in town. When one reporter tried a kit from GladRags, she found them to be "the softest pads [she'd] ever used."
Cloth pads are great because they're reusable—you can machine or hand wash them—and therefore, more eco-conscious than throwaway tampons and pads. In fact, there's even a cloth pad company called Tree Hugger Cloth Pads, which plants a tree for every pad you buy.
When it comes to absorbency, there's nothing like an actual, organic sponge. For her period column on HelloGiggles, staff writer Sammy Nickalls tried out reusable, organic sea sponges from Jade and Pearl, which you insert like a tampon. (Don't worry—the sea sponges are harvested in a way that allows sponges to regrow.)
Turns out these sea plants provided great results, including, for Nickalls, feeling more comfortable with her period in general, since the sponge-cleaning process forced her to get her hands bloody. On the flip side, sponges aren't so great for use in a public bathroom, since you have to wring them out in the sink after removing them (awkward).
There's also Holy Sponge, which is similar to Jade and Pearl, in that the company harvests sea sponges from the ocean.
But if you're squeamish about putting actual sea sponges in your body, an alternative is Beppy's Soft + Comfort tampon, which is made from a soft, spongey material—a nice change from the stiff strings and cotton of regular tampons. Unlike Jade and Pearl's products, though, Beppy's sponges are not reusable.
Nickalls also tried the two most well-known menstrual cups—the Lunette and DivaCup. As we mentioned, we've been following the rise in period cups for some time and are well aware of the pros and cons. Nickalls offers a unique perspective on menstrual cups, however, since she's had the worst thing that can possibly happen with one happen to her—a cup (which, for the record, was neither of these brands) attached itself to her cervix and she couldn't get it out. However, she found both Lunette and Diva Cup to work quite well.
Finally, you can always make your own alternatives, like this Refinery29 writer, who made a series of pads with cleaning cloths from Bed, Bath, and Beyond. Of course, you should always be careful about what you put in or around there. If you're thinking of using a DIY option, check with a medical professional to ensure its safety first.
Did we miss your favorite tampon alternative? Drop us a line in the comments.
Sulagna Misra is a freelance writer who lives in the New York area and the small hovel http://sulagnamisra.com. You can find her on Twitter at @sulagnamisra.