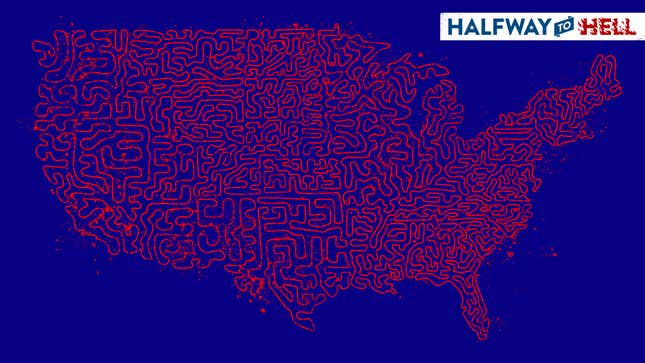 The midterms won't just determine who has control over the Senate and the House of Representatives, who's in governor's mansions and who's running state legislatures, or what ballot measures voters approve. They could very well play a huge role in how our elections work over the next decade and beyond.

That's because in 2021—just after the next election—the majority of state governments will redraw their congressional and state legislative districts, and in many, the governors and legislators elected this year will wield significant control over the process. Some states will also hold elections for the position of Secretary of State, usually the top elections official in the state. If the aftermath of the last real midterm "wave"—the crushing Republican win in 2010—taught us anything, it's that free and fair elections in America are absolutely not a guarantee.
But unlike 2010, the Democrats are in a good position to flip key executive seats and chambers which are currently held by Republicans who have abused their power over the last several years. Here are seven states to watch tonight and over the next few years.
Wisconsin
Perhaps no state has continued to feel the effects of the 2010 election more than Wisconsin. In a state where a case about partisan gerrymandering was rejected by the Supreme Court this year but may come back, Republican Gov. Scott Walker is seeking a third term against Superintendent of Public Instruction Tony Evers, a Democrat. Current polling gives Evers a very slight edge. If Evers was to win, he'd have veto power over redistricting in 2021, just as Walker did in 2011, after he won his first term.
How gerrymandered is the Wisconsin State Assembly? In 2012, the first year that the new maps were in effect, Democratic candidates won 174,000 more votes than Republicans, but Republicans still took 60 of 99 seats.
In addition to gerrymandering, one study estimated that Wisconsin's restrictive voter ID law prevented as many as 45,000 people from voting in the 2016 election. Donald Trump won the state by a little over half of that.
The governor's mansion isn't the only major race that could have an impact on voting rights, however. While Wisconsin's state Assembly appears to be out of reach for Democrats barring an unprecedented wave, Democrats need just two seats to flip control of the state Senate. Half of the chamber is up for elections to four-year terms, so doing so—along with an Evers victory—would put them in pole position to stop Republican gerrymandering efforts in 2021.
Kansas
Two key statewide races could affect the horrible way Kansas carries out its elections. The state has gained attention for poll problems in both wealthy, eastern Johnson County and in Dodge City, a majority-Latinx city of over 25,000 in the western part of the state, which is being served by just one polling place this year located outside of city limits.
In the governor's race, Republicans nominated America's unofficial king of voter suppression, current Kansas Secretary of State Kris Kobach. Kobach pioneered the Interstate Crosscheck System, a highly flawed system which was ostensibly supposed to prevent voter fraud. One study last year, however, found that "one of Crosscheck's proposed purging strategies would eliminate about 300 registrations used to cast a seemingly legitimate vote for every one registration used to cast a double vote."

Kobach is a controversial nominee even for some Republicans, and Democrat Laura Kelly has garnered the support of two former GOP Senators, a former Republican governor, and over two dozen current and former Republican legislators in Kansas. Throwing yet another wild card into the mix is independent Greg Orman, a former Senate candidate running a failing campaign but who could sway enough voters to flip the election either way. The limited polling that's been done in the race since the August primary has all had Kelly and Kobach running neck and neck.
Given that two Kansas Democrats (Sharice Davids and Paul Davis) could flip U.S. House seats tonight as well—and given the ease with which the Kansas legislature could redraw those seats to make them more favorable to Republicans—whoever wins this election will likely play a vital role in redistricting in 2021, as the governor has veto power over redistricting plans.
In addition to an unusually competitive gubernatorial election, the race to succeed Kobach as Secretary of State could determine if Kansas continues on or deviates from the path of voter suppression. Kansas House Rep. Scott Schwab promises to keep many of the Kobach-era reforms, such as voter ID and proof of citizenship requirements, while Democrat and former Google executive Brian McClendon (who helped build both Google Earth and Google Maps) is running against the Kobach legacy of Crosscheck.
Georgia
As with Kansas, a contested GOP gubernatorial primary between the last elected governor's running mate and an even more right-wing secretary of state produced a win in favor of the latter. GOP nominee Brian Kemp's vicious attack on voting rights hasn't let up during his general election campaign against Stacey Abrams, who would be the first black woman ever elected governor of any state and the first Democrat elected governor of Georgia since 1998.
Kemp was sued last month after an Associated Press report found that 53,000 voter registration applications were on hold in his office. And just this past Friday, Kemp was ordered by a federal judge to take steps to ensure that over 3,000 naturalized citizens who've been flagged as potential non-citizens are able to vote.
It's not just Kemp. In 2015, the Georgia legislature altered two state House districts to make them more favorable to Republican incumbents. "Their express purpose was to change Districts 105 And 111 just enough to protect the incumbents there, without endangering the incumbent Republican House members in the neighboring districts. And that's exactly what they did," a federal court ruling in June said. (Even so, the court still found that the practice was "perfectly acceptable" under "current Supreme Court precedent.")
Abrams, who is virtually tied with Kemp according to recent polling, is pledging to push for automatic voter registration and to veto a gerrymandered redistricting plan if it should come before her in 2021.
In the race to succeed Kemp as Secretary of State, former Democratic congressman John Barrow has spoken out against voter "purges" and said that he wants to move to paper ballots rather than its current system of electronic voting (which has come under scrutiny), while Republican state representative Brad Raffensperger said in a debate last month that he would cancel voter registrations in a purported anti-voter fraud measure. Voter fraud, should you require a reminder, is not real.

Georgia elections require winning a majority of votes in order to win, so if the candidates in either race fail to get to 50 percent today, there will be a runoff election on December 4 to determine the winner.
Michigan
Michigan's lurch to the right over the past seven years was propelled by unified Republican control of government, with the election of Republican Rick Snyder (who should be in jail, by the way) as governor and a GOP takeover of the state House to go along with its standing state Senate majority.
You can probably guess what happened next: Republicans gerrymandered their maps. They even bragged about it in emails.
This year, however, a permanent fix for this is on the ballot in Michigan. If approved by voters, it would create an independent redistricting commission of 13 people to redraw the state's Congressional and legislative maps, a method that's been proven to produce fairer maps and more competitive districts in other states. (Another, separate ballot proposal would address a number of other voter accessibility issues, such as same-day voter registration and straight-ticket voting.)
Even if the redistricting measure was to fail, however, Democrats are in a good position to not get boned as hard they did in 2010; Democrat Gretchen Whitmer is favored over Republican Bill Schuette in the race to succeed Snyder. In addition, the Michigan House is one of the Democrats' top pickup targets this year, with a net gain of nine seats needed to win the chamber.
Florida
Democrats have been in the wilderness in Florida for two decades, but that could very well change this year. Most polls show Tallahassee Mayor Andrew Gillum is running slightly ahead of Republican Congressman Ron DeSantis in the gubernatorial race, and incumbent Democratic Sen. Bill Nelson is running neck and neck with the much more well-monied current Florida Gov. Rick Scott.
That's not all. Democrats need a net gain of four seats to win a majority in the Florida state Senate for the first time in 28 years. Even if they don't win it outright, cutting into the Republicans' majority could be enough to flip it in 2020, just in time for redistricting in 2021.
In 2010, voters in Florida approved the Fair District amendments, which set standards for both congressional and legislative redistricting. Just how much did it help? The Florida Supreme Court struck down the legislature's maps as a partisan gerrymander in 2015 and later that year, approved a map drawn by groups including the League of Women Voters and Common Cause Florida, which is currently in place for this election.
If Gillum wins or the Democrats manage to take control of one chamber of the legislature, it's much more likely Florida voters will get something more in line with coherent-looking districts next time.
In addition, Florida has an amendment on the ballot this year (one of many) which would automatically restore voting rights for people convicted of nonviolent felonies after they've served their time. A poll last week showed overwhelming support for the measure.
Pennsylvania
Pennsylvania was one of the most stunning wins for Donald Trump in 2016, and it seems the likeliest to provide the largest rebuke of the president two years later: Democratic Gov. Tom Wolf and Sen. Bob Casey are both all but guaranteed re-election, and Democrats are poised to pick up at least four and possibly as many as six of the state's 19 House seats.
It's not just Trump that's driving that last one, though.
Here's why: the Pennsylvania Supreme Court struck down the state's extremely gerrymandered congressional map earlier this year, which were drawn in 2011 when the GOP had a unified Republican government headed by then-Gov. Tom Corbett. (Corbett sucked so bad that he was the one of the only incumbent Republican governors to lose in 2014, and the first Pennsylvania governor to lose a re-election bid.)
The legislature then redrew the districts, but Wolf vetoed their new plan. So instead, the court had Stanford law professor Nathan Persily redraw the districts. This produced a map that was more favorable to Democrats, but also calls from rank and file Republicans in the legislature all the way up to U.S. Sen. Pat Toomey to impeach the judges. If you can't beat 'em, impeach 'em.
According to Governing, both chambers are favored to remain in the GOP's hands. But this election could begin the party's long road back to retaking the legislature, and assuming Wolf wins re-election as expected over crazed golfer Scott Wagner, the Democrats will play a much bigger role in shaping the redistricting process than they did in 2011.
North Carolina
Establishing a coherent history of redistricting in North Carolina over the past seven years is next to impossible.
Republicans won control of both houses of the state legislature in 2010 for the first time in over a hundred years. They quickly redrew the state's legislative and Congressional districts. (North Carolina's governor at the time was Democrat Bev Perdue, but governors in the state have no veto power over redistricting.) The GOP was already forced by federal courts to redo the congressional districts once, in 2016. Then, this year, a federal court again found that these new districts were unconstitutional because they violated the First Amendment and the Equal Protection Clause, but later decided it was too close to the election to make them do it again.
Things aren't any less complicated in the state legislature. The U.S. Court of Appeals struck down the state's legislative maps last year and ordered the legislature to redraw them, which it did by hiring the same guy who drew the old ones. The courts said that wasn't good enough and tapped Persily, of Pennsylvania redistricting fame, to redraw the districts in question. Then, the Supreme Court ruled that only some of the districts that Persily redrew should be in use this year. Making things even more complicated, the Wake County Superior Court just ruled on Friday that four of the House districts in the state's largest county have to be redrawn before the next election in 2020.

If all of this is confusing, don't worry: you'll probably have some time to try to understand all of this bullshit, because it's likely that a whole lot of it won't change after today. The Democrats would need 16 seats to win the majority, and Governing rates both chambers as likely to remain Republican-controlled. But it's worth remembering that Democrats were up against similar odds in neighboring Virginia last year, and ultimately only remained in the minority of the House of Delegates because of a name drawing.
Even if a similar and unlikely scenario fails to come to pass tonight, the Democrats are still in a good position to break the GOP's supermajority in the House of Representatives, which would be enough to sustain the veto of Democratic Gov. Roy Cooper should the GOP continue to push the state further to the right, including with voter disenfranchisement. Even if Cooper wins re-election in 2020, however, he—like Perdue—is powerless to stop yet another ruthless and unconstitutional gerrymander which is almost sure to come in the next decade.
They might not have to, though. That's because the North Carolina GOP is attempting to resurrect voter ID, which was struck down by a federal court in 2016. They could enshrine it in the state constitution today if Amendment 4 passes, one of six coming before North Carolina voters this year which range from the unimportant to a naked grab for power by the General Assembly.
Normal, supposedly democratic state in a normal, supposedly democratic country.
---
Make no mistake about it: that we even have to rely on the results of one race or one election to know whether or not we'll be granted the luxury of free and fair elections in the years to come is repulsive.
But it's clear that the far-right turn of states that were formerly moderate (North Carolina) and progressive (Wisconsin) in nature—conditions that helped deliver a President Donald Trump, stem in part from the 2010 election and the restrictions on voting and voters that came after. On Tuesday, voters in these states—all of which, you might have noticed, were carried by Trump—will have a huge opportunity to level the playing field and turn back the tide of voter disenfranchisement which has defined the last seven years of American politics.
Or we could get more of the same: more permanent Republican majorities full of reactionaries, and more voter suppression. No pressure, really.