On the morning of George H.W. Bush's state funeral in Washington, the Revisionist History Express ran full speed ahead exclusively off the fumes of NBC hosts Tom Brokaw and Andrea Mitchell parsing the dead president's legacy of "gentility and decency" on the Today show with Savannah Guthrie.

Coming at us live from outside the National Cathedral this morning, Brokaw waxed poetic about Bush's history of public service, reminding the American people that we're very lucky 41 didn't follow in the footsteps of his wealthy family and become a Wall Street banker, but instead followed in the footsteps of other wealthy families to become a lifelong politician.
And while Guthrie recalled that Bush "didn't care for the legacy discussion," perhaps not wanting to be remembered for all the ways he fucked up, Mitchell went on with it anyway. Honestly, I'm not sure why I got my hopes up when she began with, "History is treating him already far better than..." as if she, in her next breath, was really going to call out this past week's narratives, which have almost completely ignored Bush's actual legacy.

No, Mitchell, along with countless other media personalities, failed again (emphasis added):
Well I think history is treating him already far better than we in the media and the public perhaps appreciated him when he ended his presidency. And he was very distraught, of course, at the loss to Bill Clinton. But the fact is the gentility, the decency—despite his political instincts, he was very competitive in that 1988 campaign, that should not be airbrushed—but the fact is there was a fundamental kindness and gentility about the man.
G/O Media may get a commission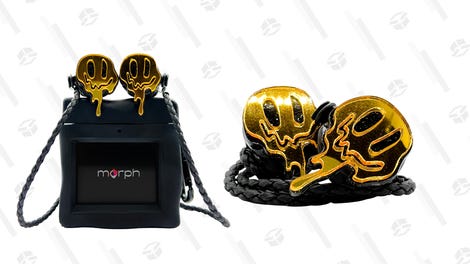 morph audio
Morph Earphones
Gentile. Kind. Decent. But let's not gloss over the fact that he... oh, ran a "very competitive" campaign against Bill Clinton. Right, that's what we shouldn't forget about his history of public service.
But aside from losing that 1992 presidential campaign as the incumbent, Brokaw went on, Bush's "sense of public service" really "defined his life." And wow, Bush was hurt, but responded forgivingly, Brokaw recounted, when Newsweek published a cover story about him being a "wimp" during his vice presidency.
He was "so forgiving" of the media criticism, Mitchell echoed, and didn't "blame the media," which really made him someone who knew when to poke fun at himself and take "credit for the failures" while also "sharing" any praise he received. Praise for everything that, well, the media should have criticized the Reagan and Bush administrations to begin with.
Alas, we can look forward to Bush finally being buried tomorrow, deep in the ground, and this entire amnesia-filled news cycle with him.