Some Mexicans on social media are accusing popular brand TOMS of copying a traditional shoe design perfected by the country's indigenous tribes centuries ago. The California-based company is facing criticism after it unveiled a new line of huaraches, a sandal-like footwear created and worn by numerous indigenous groups in Mexico.
TOMS has been wildly successful at transforming traditional Argentine alpargatas into hip shoes that consumers can feel good about under its motto "Buy one, give one," a reference to the company's commitment to give shoes to impoverished children. But some Mexicans, and some Mexican media, are calling the 'modernization' of the huarache outright appropriation.
"Huaraches are no longer Mexican," read a headline in Mexico's Milenio newspaper.
On social media, Mexicans and U.S. Latinos are questioning whether the company straight up copied what is widely heralded as one of Mexico's most traditional products.
G/O Media may get a commission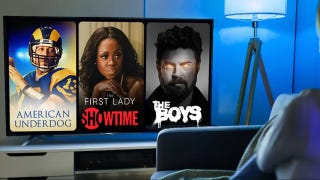 UNDER $1
99¢ Prime Video Channels
"The Huarache has been worn in Mexico for hundreds of years," reads TOMS' description of the shoe. "Its simple yet unique design makes it the perfect addition to the TOMS collection. Our modern version of the Huarache is woven by hand from natural leather. "
In spite of being environmentally friendly and described as hand-woven in Mexico, TOMS' huaraches have sparked a social media debate by Latinos and Mexicans on both sides of the border.
"I bet everyone buys TOMS' huaraches, but no one buys anything from Mexican artisans."
TOMS did not respond to Fusion's request for comment.
Nike recently released a similar "Huarache" shoe line inspired by the "ultra-comfortable" wear of Mexican huaraches often used by the Tarahumara indigenous tribe to run long distances in dusty terrains. But Nike isn't facing a social media backlash, perhaps because its design still looks like a typical running shoe.
The huarache is increasingly being hailed as the perfect running shoe because of its flat sole and simple design which allegedly works more efficiently at preventing injuries. Up-and-coming outdoor brands like Xero Shoes and Bedrock Sandals have been quick to incorporate Tarahumara huarache designs into their products. Xero says it supports the Tarahumara tribe by donating 10 percent of their custom-made Xero Shoes to the Tarahumara Children's Hospital Fund.
More famous brands like Nike and TOMS aren't the only ones walking a fine line between drawing inspiration from and possibly outright copycatting.
In recent weeks, French designer Isabel Marant was accused of profiting from Mexico's traditional huipil garment design. Others seem to think it's not so much about 'stealing' designs as merely the fact that global fashion designers and brands are being inspired by Mexico and its growing fashion industry.
Appropriation or not, the rise of the huarache seems to be a good thing. Its newly founded "cool" factor with runners and fashion consumers is increasingly showcasing the ingenuity of Mexican craftsmanship.