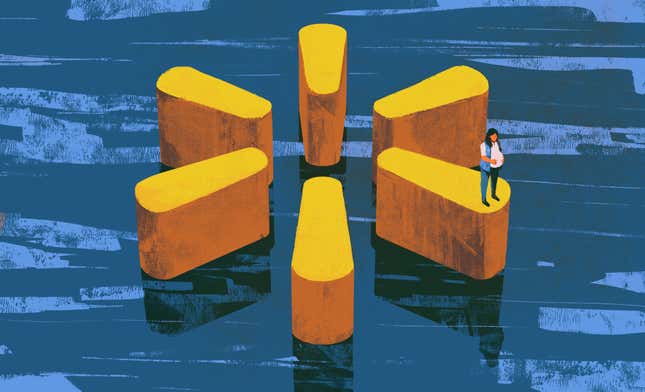 Sixty-one-year-old Jose Ramos says he often experienced racism and discrimination from his department manager toward the end of his 17 years working as a forklift operator at a Grand Prairie, TX, Walmart.

"It was an ugly experience. Nearly every day I was told by my manager I shouldn't be there because I don't speak English. I was regularly told to go back to Mexico, and the manager knew I'm not from Mexico, I'm from El Salvador," Ramos told Splinter in Spanish.
But the manager seemed to have an even bigger problem with Ramos' salary.
"I was constantly told I was making too much at $18.86 an hour and would be fired soon. I was being told that with my salary, Walmart could hire two new employees," he said.

Ramos is one of several former Walmart employees who alleged to Splinter that they were wrongfully fired because they were making too much. Several other current and former employees alleged wrongful termination for becoming pregnant or getting sick. There is a pervasive fear among employees, they said, of any combination of these conditions leading to reprisal from management, including job loss.
Splinter spoke with a dozen Walmart employees across the U.S. for this piece; several were unwilling to talk on the record out of fear of retribution, but all of them described a retaliatory and unfair system. The employees willing to identify themselves were connected with Splinter through the Making Change at Walmart campaign, a project of United Food & Commercial Workers International union, as well as local UFCW organizers and the Organization United for Respect at Walmart (OUR Walmart).

"This is more than just a string of isolated incidents," Amy Ritter, communications director of Making Change at Walmart, told Splinter in an email. "We've heard stories from Walmart workers all across the country who had serious medical needs or otherwise required sick leave felt unfairly punished for medical absences or marginalized upon returning to work. This is a critical problem at Walmart and it's about time they take serious steps to fix it."
Walmart did not respond to multiple requests for comment for this story over a period of weeks.
The company has long faced issues with employee turnover; some workers charge that the company encourages it as a way to minimize labor costs. "There's constant turnover," Margaret Hooten, a current employee at a Walmart in Placerville, CA, for the past seven years who has testified in the past against Walmart for unfair labor practices before the National Labor Relations Board, told Splinter. "They find any possible excuse to fire people or get them to quit because their wages have increased." (Walmart did not respond to requests to provide up-to-date employee turnover data, although the company has touted recent efforts to raise salaries.)
Ramos alleges that he was wrongly terminated due to his seniority at Walmart, which had led to a salary of about $18 an hour—substantially more than the $11 an hour paid to newly hired associates. He said that, on May 11, 2018, his department manager ordered him to lift an insecure pallet with the packages bursting out of its plastic wrap. When Ramos refused, the manager threatened to fire him if he didn't pick up the pallet.
"After the pallet fell, the manager started calling me a 'wetback,' telling me I was old and not needed," he said. "I received the order to put the pallet down even after I expressed that the pallet wasn't secure and was going to fall. I insisted it was not my fault. Then the manager pushed me and I fell backwards onto the items falling off the pallet, bruising my leg."

After the incident, Ramos said he was sent to the store office for a meeting with the store manager, where he was told there weren't any cameras in the room to verify his story—though he's seen cameras there—and was told to clock out. "I refused because I didn't do anything wrong. They ended up calling the police to escort me off the property and clocked out of work for me," Ramos said.

A week later, Ramos was fired from Walmart. He said he was not paid any of the 194 hours in sick and vacation time he had accrued, nor given a formal reason for his firing. This type of alleged wage theft is not an uncommon charge against Walmart; a June 2018 report by Good Jobs First ranked Walmart as the leading wage theft employer in the United States, with more than $1.4 billion paid in wage theft fines and settlements since 2000.
"If they want to fire you, they will find a way to make sure it happens, and there is a constant fear to speak out because people can't afford to lose their jobs," Ramos added. "Essentially Walmart does what they want."
Sixty-four-year-old Willie Bell said he was fired in August 2017 under similar circumstances by management at a Lancaster, TX, Walmart, where he worked for over 20 years. He was fired for stepping on a stock shelf—an apparent violation of policy—but told me he felt this was used as a pretext to fire him.

"I came in that day, looked up on a shelf and I see these big TVs sliding off their pallets. The shrink wrap was breaking," Bell told Splinter. "I got a ladder, went on top of the steel. When you put your foot on the green steel, that's automatic termination, but I saw the TVs and I made a quick decision to prevent an accident." He said the store and assistant manager saw him, asked if he needed help, and took a picture.

"They fired me over the phone next week," Bell said, noting he was not initially reprimanded at the time of the incident. "They flunked inspection shortly after [the incident] and I think they believe I called OSHA on them. They failed every category in safety. I had fellow employees accusing me of calling OSHA." (Neither Walmart or the Department of Labor responded to requests for comment about the OSHA allegations.)

Employees with years of experience aren't the only Walmart workers facing a work atmosphere of impending job termination. This fear is reinforced by strict attendance policies that prevent employees from taking too many sick days even with proper medical documentation.
Walmart's attendance policy is based on a disciplinary point system which penalizes employees for absences, unauthorized absences, late clock-ins or clock-outs. Employees are "subject to termination" once they reach four points within six months of hiring or nine points in a six month period for all other associates. (The points expire after six months.) Several employees told Splinter that, despite providing documentation from doctors, they were still given points that either led to their termination or put them in jeopardy of being fired. (A Walmart source provided Splinter a copy of the most recent version of the attendance point system, embedded below.)

In August 2017, Yolanda Gonzales was hired as a cashier at a Walmart in Grand Prairie, TX. At the time, Gonzales was visibly pregnant and informed Walmart her baby was due in a few months. Issues began almost immediately. "I was working the night shift starting at 10 p.m. and wouldn't get my first 15-minute break until 3 a.m. I had several doctor notes to be given light duty, and Walmart would not accept them," Gonzales told Splinter. "I still had to lift things like 50-pound dog food bags and heavy furniture, items left at the front registers throughout the day. They told me it had to be specific light duty and would take several weeks to go through corporate and get approved."

As a new hire, Gonzales had to adhere to stricter attendance policies, which led her to immediately return to work after going to the emergency room because of complications with breathing before she gave birth. On December 2, 2017, Gonzales gave birth to a baby boy; she had to have an emergency caesarean section because her baby had the umbilical cord wrapped twice around his neck. Gonzales said she regularly checked in with Walmart from the hospital over the next four weeks until she returned with a doctor's note allowing her to come back to work.
"Human resources told me I was fired for job abandonment," said Gonzales. "The store manager told HR there was nothing about job abandonment in my file, just absences. They said they would call me back and they never did."

The sudden and unexpected loss of her job led to Gonzales losing her car. She still struggles to make ends meet as she searches for another job while worrying about transportation and childcare.

A Better Balance, a work and family legal center, published a report in June 2017 alleging Walmart's disciplinary point system unlawfully punishes workers for medical absences, often refuses doctors notes, and "punishes workers for things they cannot control and disproportionately harms the most vulnerable workers."

The report included testimony from three Walmart employees who were punished and given disciplinary points for pregnancy-related absences. In July 2018, the center filed a class action lawsuit on behalf of two former Walmart employees outside of Rochester, NY, who alleged that they were fired because of pregnancy-related absences.

But it's not just pregnant women who say they are being pushed to risk their health and well-being in order to comply with Walmart's attendance point system.

In Martinez, CA, Carol Hernandez said she nearly lost her life trying to keep from getting fired after she suffered a heart attack in October 2014.

"During my second year at Walmart, I had a heart attack at work due to stress from the store manager during inventory time," Hernandez told Splinter. "I had small heart attacks for a week straight and finally my arm just went numb on me and it felt like it was 500 pounds. I couldn't lift it, so they called the paramedics. I stayed home for four days. I was scared to take off any more time than that because I didn't want to lose my job so I came back to work right away."
She complained to Walmart about her managers threatening her job at work and the stress caused by the harassment. "The doctors told me the heart attack was due to stress because my heart was OK otherwise," she said. "Corporate just ignored me. As far as taking time off, I didn't want to lose my job."

In Chicago, Rose Campbell said she took an unpaid leave of absence rather than paid sick time for a few weeks from the end of December 2017 to January 2018 due to a severe flu that hospitalized her twice. Despite working full-time at Walmart for 10 years, her schedule and hours were reduced to part-time when she returned to work. "It made me have to move out of my apartment and move in with my daughter," she told me. "I didn't get a full schedule back until recently."

In response to a New York Times story on the lawsuits filed by A Better Balance, a Walmart spokesperson claimed the company has worked with countless employees to authorize work absences. "We understand that associates may have to miss work on occasion, and we have processes in place to assist them," Randy Hargrove, a spokesman for Walmart, told the Times, adding that the company reviews each employee's circumstances "in compliance with company policy and the law."

Walmart's Global Statement of Ethics also claims, "We are committed to complying fully with all applicable laws and regulations dealing with wage and hour issues, including off-the-clock work, rest breaks, meal periods and days of rest, overtime pay, termination pay, minimum-wage requirements, wages and hours of minors and other subjects related to wage and hour practices."
Read Walmart's attendance policy:

---
Michael Sainato is a journalist based in Albany, NY. Follow him on Twitter @MSainat1.