We're sure you've read all the emotional and gushy Valentine's Day stories, but it's time to get physical and talk about sex. After all, it is International Condom Day. Something the athletes in Sochi's Olympic Village know about all too well (100,000 condoms! Really?!). Even one of the world's richest icons, Bill Gates, held a build-a-better-condom competition a few months back, granting $100,000 each to 11 inventors who believe they have the latex it takes to create a better feeling condom. In the spirit of the holiday and the Winter Games, we're counting down our top Olympic sports that warrant a condom. Think of it as Olympic Kama Sutra (even their body suits look like condoms).
The Spread Eagle
Sport: Slopestyle Skiing
Suggested Condom: Trojan Her Pleasure Ecstasy
Reason: Since this position is more about your partner, you can't go wrong bringing it back to the basics. Like the ski-jump, the ribbed base makes it more pleasurable on the partner's end. Don't be selfish and just accept the bronze here.
G/O Media may get a commission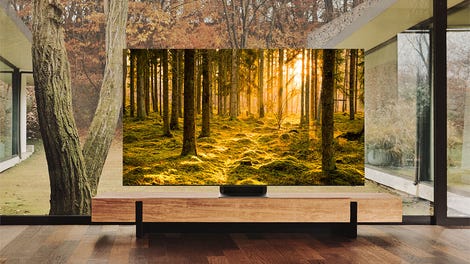 Up to 40% off
Samsung Smart TVs
Head first
Sport: Skeleton
Suggested Condom: LifeStyles Skyn
Reason: The sport of Skeleton can be intimidating and is all about speed. So this is for those in a rush, who don't need something long-lasting. It's marketed as soft and stretchier than latex. This is preferred if you're in a rush- whether you're running late to work or an Olympic competition.
Using Luge
Sport: Luge
Suggested Condom: LifeStyles X2 lubricated (in and out)
Reason: You're probably used to associating "luge" with a frat house ice sculpture, but we're talking about the Olympic sport that is a great workout for the abs. According to Men's Health, testers of the X2 condom say they "felt a cool, tingly feeling." Sounds like Sochi weather to us!
All Figured Out
Sport: Couples Figure Skating
Suggested Condom: Durex Performax
Reason: Watching couples intertwine their bodies in passionate emotion will have you running home to your partner. With reduced skin sensitivity, the Performax will allow the man to keep up with his partner. It will do to your sex life what "Blades of Glory" didn't do for Jon Heder's career- make it last longer.
Open Format
Sport: Freestyle Skiing
Suggested Condom: Kimono Micro Thin Aqua Lube
Reason: Freestyle skiing is probably the most emancipating but dangerous. You're allowed to show off all that practicing you've been doing but it's easy to feel yourself a bit too much and get carried away. For protection against STDs, this ultra thin yet durable condom allows for intimacy and flexibility. Unless you're married.