Top Democrats are calling on Attorney General Jeff Sessions to resign after reports revealed he met twice with Sergey Kislyak, the Russian ambassador to the US, during the 2016 US presidential campaign, which he did not disclose when asked under oath about contacts between Trump's campaign and Russian officials during his Senate confirmation hearing earlier this year.
"Jeff Sessions lied under oath during his confirmation hearing before the Senate," House Minority Leader Nancy Pelosi said in a statement Wednesday evening. "Under penalty of perjury, he told the Senate Judiciary Committee, 'I have been called a surrogate at a time or two in that campaign and I did not have communications with the Russians.' We now know that statement is false…the Attorney General must resign."
This follows the resignation of Mike Flynn last month after it was revealed he lied about his own dealings with Kislyak before Trump took office.
Justice Department officials confirmed to The Washington Post that Sessions spoke to Kislyak twice in September 2016, at a time the Post noted was "at the height of what US intelligence officials say was a Russian cyber campaign to upend the US presidential race."
G/O Media may get a commission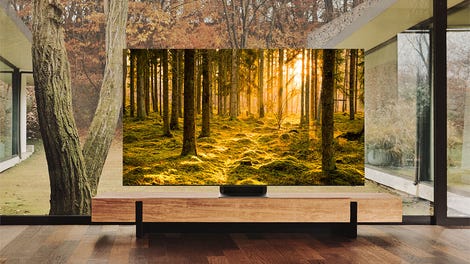 Up to 40% off
Samsung Smart TVs
But Sessions' spokeswoman, Sarah Isgur Flores, defended his testimony to the Senate, saying in a statement that Sessions "was asked during the hearing about communications between Russia and the Trump campaign—not about meetings he took as a senator and a member of the Armed Services Committee."
"There was absolutely nothing misleading about his answer," she said.
Sessions issued a denial of his own on Wednesday evening. "I never met with any Russian officials to discuss issues of the campaign," he said in a statement. "I have no idea what this allegation is about. It is false."
But calls for Sessions' resignation—and an independent investigation into the Trump administration's ties with Russia—grew quickly among the Democrats.
"This is not normal. This is not fake news. This is a very real & serious threat to the national security of the United States," tweeted Sen. Elizabeth Warren.
"We need a special prosecutor totally independent of the AG. We need a real, bipartisan, transparent Congressional investigation into Russia," Warren tweeted. "And we need Attorney General Jeff Sessions—who should have never been confirmed in the first place—to resign. We need it now."
Rep. Elijah Cummings, the ranking member of the House Oversight Committee, also called for Sessions to resign.
"It is inconceivable that even after Michael Flynn was fired for concealing his conversations with the Russians that Attorney General Sessions would keep his own conversations secret for several more weeks," he said in a statement. "Attorney General Sessions should resign immediately, and there is no longer any question that we need a truly independent commission to investigate this issue."
Rep. Joaquin Castro openly questioned Sessions' defense of his meetings with Kislyak.
"The Sessions mtgs seem odd. I've been a member of Armed Services, Foreign Affairs & Intelligence Cmtes yet never met the Russian Ambassador," he tweeted.
"Besides hiding info from the committee, it's disturbing that Sessions nor anyone else at the mtg says they can 'recall' what was discussed. When you meet w Ambassadors ordinarily someone's staff takes notes. Also, Ambassadors report back to their governments what you discussed," Castro said in another tweet.
CNN reported that Kislyak's role is believed to go beyond that of an ordinary ambassador.
Shimon Prokupecz, a CNN reporter, tweeted: "Here's the issue: Kislyak, the Russian ambassador, is considered by US intelligence to be one of Russia's top spies and spy-recruiters."