A top Republican congressman was among those shot when a gunman opened fire at a congressional baseball practice in Virginia on Wednesday.

House Majority Whip Steve Scalise, the third-highest ranking Republican in the House, was shot in the hip, according to multiple reports.
Scalise's office later released a short statement on the congressman's condition, describing him as having been in "good spirits" before undergoing surgery for his wound. He is currently stable.
G/O Media may get a commission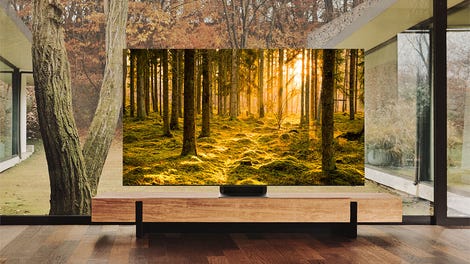 Up to 40% off
Samsung Smart TVs
Alexandria police tweeted that the suspect was in custody, and that a currently unspecified number of people have been taken to a nearby hospital.

Speaking on CNN, Republican congressman Mo Brooks, who was at the baseball field during the attack, described the shooter as a white, heavyset middle aged male. Brooks said that the shooter opened fire from behind a chain link fence beyond third base, and that some people present took shelter in the field's dugout. Brooks also claimed he heard "10 or 20" rounds from the shooter before the congressional security detail responded.
Describing the scene as a "killing field," Senator Rand Paul credited the Capitol Hill police accompanying Scalise for stopping what would have otherwise been a massacre.
In a short statement on the shooting, President Donald Trump wrote that he was aware of the situation, calling it a "tragedy," and offering his thoughts and prayers to everyone affected by the attack.
Scalise has served in Congress since 2008. He has been an ardent conservative, earning an A+ rating from the National Rife Association. Shortly after having been named to the Republican congressional leadership team, Scalise was forced to apologize for delivering a speech to an avowed white supremacist group founded by former Ku Klux Klan leader David Duke in 2002.
Update, 11:08 AM: Law enforcement officials identified the gunman as James T. Hodgkinson. From the Washington Post:
The shooter at the GOP congressional baseball practice this morning is James T. Hodgkinson of Belleville, Ill., according to law enforcement officials. Hodgkinson, 66, owns a home inspection business. His home inspection license expired in November 2016 and was not renewed, state records show.
Update, 11:43 AM: President Trump claimed that the shooter had died from his injuries.
Update, 1:11 PM: According to those who knew him, Hodgkinson had been angry over Trump's election, and had recently traveled to Washington DC to protest the administration. Hodgkinson's Facebook profile had been peppered with anti-Trump articles, and posts praising Bernie Sanders.

"I know he wasn't happy with the way things were going, the election results and stuff," Hodgkinson's brother, Michael, told the Washington Post. But, he explained, news of the attack came "totally out of the blue."
Illinois' Belleville News Democrat reported that Hodgkinson had amassed an extensive arrest record for crimes such as DUI, resisting an officer, property damage, and eluding police. In 2006, Hodgkinson was arrested for domestic battery, but those charges were subsequently dismissed.