Immigration reform likely will not pass this year and the issue could die completely if it's not dealt with by early 2014, according to a major Republican reform backer.
"I agree with what they said that it's unlikely that it's going to happen in the remaining days this year," Rep. Mario Diaz-Balart (Fla.) said during an interview with Fusion's Jorge Ramos. "And I also think that if we don't get it done by early next year, it's frankly—you know—potentially dead."
Diaz-Balart's GOP colleagues have pumped the brakes on immigration reform in the House.
Leaders won't take up a sweeping overhaul passed by the Senate in June. Moreover, they say no bill will get to the floor without the support of a majority of Republican lawmakers. That's a tough task for the GOP conference, which is deeply divided over immigration.
That appears to be a source of frustration for Diaz-Balart, who tried unsuccessfully to release a broad immigration reform bill with a bipartisan group of House members earlier this year.
G/O Media may get a commission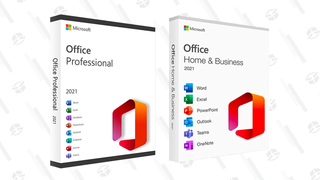 89% off
Microsoft Office Professional 2021 Lifetime License
"I wish that was not the reality. I think it ties the hands of the legislature," he said. "I don't like rules that tie the hands of legislators. So I don't like it, period. Now, we have that reality. Therefore we need 117 [members]."
The Florida congressman has taken heat from immigration advocates for saying the issue appears dead this year, remarks first made to the Washington Post. Diaz-Balart told Ramos he is still pushing House leaders for action this month or in December.
In order for immigration reform to have any chance of becoming law, Diaz-Balart says Congress must act with a sense of urgency.
"It's important that everybody understand that if we are going to get this done, and we must Jorge, we must: that we are running out of time," he said. "Urgency is what I keep emphasizing."
Rep. Luis Gutiérrez (D-Ill.), who has worked with Diaz-Balart on immigration bills, said Congress should work through Thanksgiving and Christmas to pass a bill.
"I think it's unconscionable that the Congress of the United States is going to go away for Thanksgiving with their families, we're going to go away for Christmas with our families, while our broken immigration system continues to destroy tens of thousands of families," he said.
Jordan Fabian is Fusion's politics editor, writing about campaigns, Congress, immigration, and more. When he's not working, you can find him at the ice rink or at home with his wife, Melissa.