As 2020 presidential candidates start the laborious process of filling out their campaign staffs, Sen. Bernie Sanders is trying to put out fires left behind by his last run.
On Thursday, Politico published a report outlining several allegations of sexual assault and sexual misconduct against Robert Becker, a top advisor in Sanders' 2016 campaign. Becker was head of the Iowa campaign for Sanders and then a deputy national field director for operations in Michigan, California, and New York.
According to Politico, on the final night of the Democratic National Convention in July 2016, Becker, who's now 50, attended a party at a hookah bar with fellow staffers, including a woman in her 20s who also worked on the campaign. At the bar, Becker reportedly used sexual language multiple times speaking with the woman, including a reference to riding his "pole," per the site. Later in the night, the woman and other sources allege that he walked up to her, grabbed both her wrists, kissed her, and stuck his tongue in her mouth.
Becker denied the allegations wholesale, telling Politico the woman's account is "at odds with my recollection of a late evening filled with many hugs and kisses and tears and conversations about what's next." Friends of Bernie Sanders, the senator's principal campaign committee, told Politico that Becker would not be welcomed onto any future campaigns, including a potential 2020 run.
But the site also puzzlingly reported that Becker, while not on the payroll, had been actively reaching out to potential campaign staffers—including the woman accusing him of assault—and traveling to early primary states, "activities that Sanders' top aides did not endorse, but did not disavow, either." (A spokesperson for Sanders did not immediately respond to Splinter's request for comment, but we'll update this post if or when they do.) It was Becker's call that prompted her to bring the allegations to senior Sanders advisors and Jeff Weaver, who ran the senator's 2016 campaign.
G/O Media may get a commission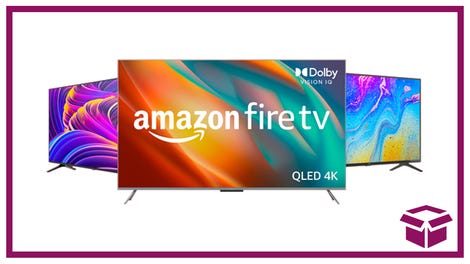 Ooh. stunning.
New Amazon Fire TVs
The latest report comes one week after the New York Times and Politico published pieces detailing widespread instances of sexual misconduct and sexist hiring practices among the 2016 Sanders campaign staff. In a Jan. 2 interview with CNN, Sanders apologized to the women. When asked if he was unaware of any allegations of misconduct among his staff, he told Anderson Cooper: "Yes, I was a little bit busy running around the country trying to make the case."

During his time with the campaign, Becker was also reportedly responsible for dismissing a volunteer and a staffer who allegedly broke into the computer of their female superior and made copies of nude photographs they uncovered on her computer, which the volunteer later showed to her subordinates in a bar. According to the site:
Though Becker dismissed the volunteer and said he blocked the staffer from getting hired in another state, he urged the victim not to escalate the matter. The woman said Becker told her he would notify the national campaign of the incident. Becker said he did so — though he could not recall if it was verbally or in writing — but the Sanders campaign said he did not.
Given the number of accounts that have surfaced in the past week, it feels obvious but necessary at this point to say that a single two-minute interview with CNN and the excuse of "I was a little bit busy," is not going to cut it. If Sanders and his team are serious about running in 2020, they're going to have to more critically address what appears to have been a major issue in his last campaign.

If not, the horror stories will keep on coming, only next time, they'll be from 2020.