Major Garrett, current White House correspondent for CBS News and former White House correspondent for Fox News, took time out of his busy schedule today to remind everyone that Barack Obama said mean and bad things about Fox News too, so let's all remember who the real victims are here. He also boasted about how deferential he is to the institution of the presidency. Cool!

Garrett's colleague, CNN White House correspondent Jim Acosta, was recently stripped of his press pass after a heated verbal exchange with Donald Trump. But the real story here, Garrett says, is that Obama said not nice things about Fox News a few times too.
"Now, they never tried to pull my pass, but they had this sort of arms-length relationship to Fox, and tried to demonize it on a daily basis. So that's another part of American history and journalism in the White House press corps I think that at least should be noted at this moment," Garrett said on Hill.TV on Friday.
On Friday morning, Acosta and CNN won a preliminary injunction forcing the White House to reinstate Acosta's press pass for the time being, pending a longer court case. But please, Major, continue telling us how hard it was for you to report for Fox from the Obama White House.

"There was never an effort to shut me out of the briefing room," Garrett told Hill.TV's Krystal Ball and Saagar Enjeti on "Rising" referring to the White House revoking press credentials from CNN reporter Jim Acosta.
...

"The [Obama] White House said it was at war with Fox News. I was it's most visible editorial representative on the White House grounds as a senior White House correspondent," he continued.

"The White House would pull me aside and say 'well, really Major, we aren't at war with you,' and I said stop talking to me like that because when you're at war with my network, you by definition are questioning, and assailing my journalistic credibility, and the work I do here every day," he said. "So don't tell me it's not about me, it is about me."

G/O Media may get a commission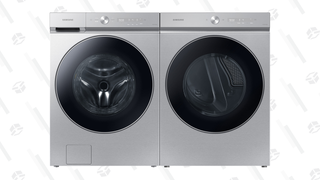 Get $500 back in credit
Last Chance: Samsung Bespoke AI Washer and Dryer Preorder
Damn. Sounds rough. A sitting president criticizing your network—which repeatedly spread misinformation about him—yet remaining professional towards you and allowing you to perform the day-to-day functions of your job.
Anyway, here's this:
And that wasn't all! Garrett also hopped on a radio show on Friday morning and more directly criticized Acosta. The host, Larry O'Connor, eventually got Garrett to agree that there was a "standard of conduct" for White House reporters and that you should be deferential to the president, and then pressed him to judge Acosta's interactions specifically.
Per Mediaite, emphasis mine:
As Garrett talked about how he doesn't make a habit of critiquing the journalistic styles of other reporters, O'Connor eventually asked him if there's a "standard of conduct" that's expected from the White House press pool. Garrett answered in the affirmative, and he recalled how he gave up the microphone at Trump's latest presser after mistakenly thinking the president called upon him.

"Some of my colleagues might say 'what did you do that for,'" Garrett said. "Some might say you laid down and were too deferential, I don't feel that way…I deferred hoping he might call on me again, he didn't, that's how I orient myself to the institution…and I respect the institution and the country's choice."


In terms of whether Acosta's actions were a breach of the code of conduct O'Connor asked about, Garrett said there was a point there, adding "I do my level best to not make myself part of story, and I think the best journalists operate that way."

We commend Garrett on his dedication to not becoming part of the story by only taking two media appearances to talk about his personal experiences this morning.