Can a city's logo change its reputation? The City of Toronto hopes so. The city's Globe and Mail newspaper recently enlisted eight graphic designers to help rebrand the city and create a new logo, which would then be voted on by readers.
The project wasn't necessarily a response to the deluge of embarrassing media coverage involving Rob Ford, the occasionally-crack-dabbling, drunken, Jamaican-accented mayor (he denies having a substance abuse problem). But it does seem like a good time for the city to rebrand.
Globe readers voted on a "T" composed of 140 ombre blue dots, representing the number of the city's official neighborhoods.
Scrolling through comments on the Globe's Facebook page, people aren't feeling the new logo. The top comment had an alternate suggestion, referencing Ford's: "Should have made a crack pipe with directions to the hood."
Will the new logo help Toronto overcome the damage done by Rob Ford? Unlikely. But if you want to learn more about the history of city branding and emblems, head over to Paul Hiebert's excellent article on city logos.
G/O Media may get a commission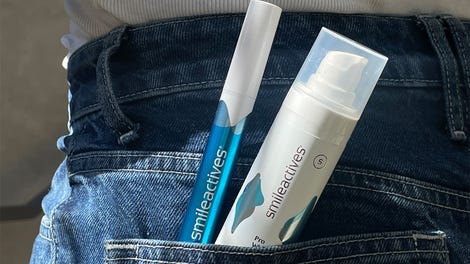 58% off
Whitening Powerhouse Pen & Gel Duo
If you want to scroll through some of the best and worst logos for places around the world*, stick around and see below.
AMSTERDAM
Amsterdam's XXX symbol is just cool. Minimal, edgy, memorable. "XXX," of course, is commonly associated with the brand of x-rated entertainment that Amsterdam has become famous for. Believe it or not, that's just a coincidence - the symbol dates back more than 500 years and originated from St. Andrew's Crosses found on Amsterdam's original coat of arms.
SEATTLE
Seattle tried to rebrand their city in the late 1990s, highlighting their tech-savvy population. This one never gained much traction, probably because no one could figure out what the hell it meant:
See-at-L - get it? Do you get it?
NEW YORK CITY
Milton Glaser's "I 'Heart' New York" logo is iconic. Glaser originally conceived the logo in the late 1970s when the city was in a state of turmoil; he wanted New Yorkers to feel proud of their city and encourage tourism. The instantly-recognizable image can now be found on souvenirs ranging from shot glasses to baby bibs to snow globes.
CZECH REPUBLIC
"Czech Republike"? This logo didn't get much love. A clear nod to Facebook "likes," the logo won a 2012 contest and earned about $112,000 for Prague-based ad agency Marvil.
VIRGINIA
This logo predates Milton Glaser's "I 'Heart' New York" image and is still instantly recognizable today. The logo first appeared in a 1969 issue of "Modern Bride" but is still widely used and adapted for hipster t shirts.
*Some of these selections are official city logos, others are tourism logos designed by the city's tourism branch, some are temporary campaigns, and others are logos for states and/or countries.
Alexandra DiPalma is a producer for Fusion Lightworks, Fusion's In-house Branded Content Agency.