The star-filled BET Awards were held last night in Los Angeles, and since it's a show that constantly reinvents itself, year after year, guests consistently wear whatever the hell that they want. The dress code is up for interpretation, but this year we saw a glamorous trajectory.
Let's start with mistress of ceremonies, Tracee Ellis Ross, who is something of a style magpie. Before the comedic offspring of Diana Ross hammed it up onstage as any number of characters, the blackish star wore this:
In a look that's just a whiter shade of pale, she cuts this striking silhouette with punchy, stacked gold jewelry that dangle from her ears and crawl up her forearms. Her enviable curls are in full bloom and with just a swipe of a deep plum lip color, the actress is terribly chic. It set a tone that everyone seemingly picked up on, although it was not my favorite look of the night.
G/O Media may get a commission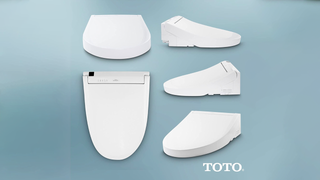 44% off
Toto Washlet Electronic Bidet Toilet Seat
No, that honor goes to young Zendaya. The teen queen has had some of the most daring, eyebrow raising, and damn fun ensembles of the year, her choices always launching a torrent of opinions. Ahem. No matter, Zendaya has a knack for selecting age-apropos but hardly precious ensembles, and her fearless approach to wigs is a trait I hope she never loses.
In a sequined shirt dress by Nicolas Gebran, the mononymous star ~casually~ twinkles, the unfussy look not really necessitating serious accessories besides those gonzo white Roberto Cavalli platforms and her shaggy page-boy wig which set off Twitter in a fit of shade.
To the haters, she cared little:
Oh and one more message if it hadn't sunk in yet:
Speaking of sparkles, Gabrielle Union arrived dripping in black sequins, donning a floor-length Halston Heritage gown that was fetching but not necessarily upending red carpet dressing as we know it.
She did leave hubby Dwayne Wade at home, along with his overpowering zeal for flashy colors and coral moto jackets, so there's at least that.
Now, Kelly Rowland's feathered bod-con dress, with disturbingly exaggerated arms that could be likened to wings, would be considered campy in any other scenario — had it not belonged to Kelly Rowland. But it does, so while this fluffy number is hardly seasonally appropriate or occasion-ready, we care not.
It's better a stage ensemble, but no matter. She looks great in it, so we'll ask no more questions.
Laverne Cox was also in attendance, the OITNB star donning a navy jumpsuit that felt straightlaced and hackneyed compared to the bod-con, curve-hugging, showstopper gowns that are usually within the actress' red carpet arsenal. I know her décolletage is on full display and her Christian Louboutin pumps have literal spikes poking out from them, but it felt like something one wears to a luncheon, not a Black Entertainment Television awards show.
But no matter, because Ciara realized exactly where she was going and decided the occasion would be the perfect opportunity to introduce the world to her new bf, Seattle Seahawks QB Russell Wilson.
Sure, in recent months the couple has been to the White House for a State dinner, a few sports games, and Russell has even been seen babysitting her son with rapper ex, Future, but poured into a beaded Wes Gordon dress, Ciara made the announcement official.
The look and the message it conveyed was perfectly executed. With her hair slicked back, minimal makeup, and her dress essentially see-through, she's living her best life.
Another dynamic duo to make their red carpet debut together would be the (physically) incomaprable Amber Rose and Blac Chyna. Now not necessarily fashion plates, per se, I do love these two women's consistent bucking of fashion rules. Often wearing little else but strings wrapped around their enviable curves, the duo appeared in matching white tuxes to celebrate the historic Supreme Court marriage equality decision last week.
They kissed just in case you didn't quite get the concept at first.
Another power couple in attendance? Rap royalty Nicki Minaj and Meek Mill, who I was completely unaware was that damn tall. While seeing Nicki in Givenchy brings me near tears, Mill's polo and white jeans ensemble appears sloppy in comparison. I would advise him to meet his woman where she is. A suit, or an attempt at one, would really shift the dynamics here.
Speaking of incongruity, the odd display of boobs from a choice few felt so off in light of the glamorous turn of the evening. Cassie, Karrueche Tran, and Jaslene Hernandez (a.k.a. The Puerto Rican Princess) let the girls out, which I'm usually in support of, but felt…out of place here.
It was all a bit too obvious. Absolutely NO chill. Next time, they can simply take a page from Rihanna's book and throw on a well-constructed blazer without a bra and essentially be exuding the same message, but appearing tailored simultaneously.
Yes, Rihanna was indeed in the building last night, looking like a gold statue in a silk Giorgio Armani short suit. While not necessarily her most daring of looks, she did wind up making plenty of statements through the night — by tossing stacks of bills in B.E.T's President of Programming Stephen Hill's face, and taping Floyd Mayweather's mouth shut with electrical tape.
It was all staged, mind you, and hype around her "BBHMM" video trailer that she debuted in the middle of the show.
Hopefully this means R8 is fast approaching, just like a Janet Jackson album promised for later this year. The music legend received the BET Awards' first ever Ultimate Icon: Dance Visual Award on Saturday evening, just a few days after releasing her new single "No Sleeep."

Her first public appearance in two years, the seemingly ageless singer was honored with an electrifying homage from Jason Derulo, Tinashe, and Ciara that gave me as many goosebumps as the singer's all-white look and cascading curls.
Marjon Carlos is a style and culture writer for Fusion who boasts a strong turtleneck game and opinions on the subjects of fashion, gender, race, pop culture, and men's footwear.