Us Weekly has been getting utterly roasted for its latest issue, which features Ivanka Trump on the cover along with the headline "IVANKA TAKES A STAND: WHY I DISAGREE WITH MY DAD."

Don't let the first person fool you—Ivanka didn't actually participate in the accompanying story. But the intention is nevertheless clear: Ivanka is a hero who "will always fight for what she believes in."
Us Weekly, as Anne Helen Petersen of BuzzFeed noted, obviously has a stake in Ivanka's enduring celebrity, having recently been acquired by the same company which also owns the fiercely Trump-friendly National Enquirer.
The magazine's portrayal of Ivanka may seem jarring to some. As it turns out, though, this version of her—the rich girl who made good, a woman shaped by her father's wealth but not necessarily defined by it, a "feminist" and working mom— is just another chapter in what has been a long, ever-changing evolution in her public image.
G/O Media may get a commission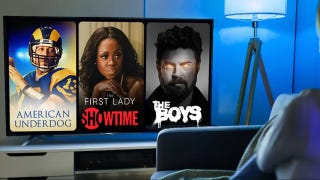 UNDER $1
99¢ Prime Video Channels
This evolution has played out on the covers of Us Weekly and other glossies, which have been instrumental in constructing Ivanka's narrative. Below, we looked at 20 years of those covers that, taken together, tell the story of the many different Ivankas that have been presented to the world.
---
1997
Before she was capital-C Complicit, Ivanka Trump was just another teen who didn't know what to do with her hands. Appearing on the cover of Seventeen in a feature about celebrity moms and daughters, she gave us the first real iteration of Celebrity Ivanka.
The demure pose, simple hair and makeup, and minimal styling signal a certain girl-next-door quality—she may even attend the same
"bored and stoned" high school you go to! You might even forget that her outlandish wealth is what has placed her in your sights in the first place.
2006
Ivanka was now a grown woman: a graduate of the University of Pennsylvania's Wharton School of Business (just like daddy) and an executive at her father's company.
At this time, Trump magazine was an actual thing, and Ivanka graced the cover several times.
This iteration of Ivanka was a sort of antidote to Paris Hilton (who was still partying with Kim Kardashian in Ibiza at this time). An heiress who was also gorgeous, svelte, blonde, and very, very rich, but ostensibly, smarter, more grounded. Someone you could actually admire. (The strapline on this cover, "From Wharton to The Apprentice Boardroom," also subtly frames her as a high-achieving professional, not a beneficiary of wild nepotism.)
There was another version of Ivanka being pushed at the same time, however. Whether to serve The Apprentice, or as an extension of whatever personal growth she was experiencing the time (or some fine calculation of the two), she also appeared in magazines like Stuff, and her covers and photo spreads were explicitly sexier.
Behold: Ivanka attempting to thread the needle. She's broadcasting success through the use of props (peep the bundled wad of money just off her right elbow), and seriousness (the "Vice President" nameplate stands for "VP of Development and Acquisitions," a title she shared with her brothers), but not at the expense of glamour (hello, Beyoncé hair fan) and some in-your-face sexiness.
2007
This "savvy boardroom bunny" look became a bit of a signature for Ivanka, as this Harper's Bazaar cover and photo spread a year later shows.
I mean...

But what's notable is the way she's framed against her father. She's both "The New Queen of Diamonds" and "The Donald's Daughter" on the Harper's Bazaar cover—a mogul in her own right, but still yoked to the big man.

2008
By this time, Ivanka's brand was experiencing a little bit of schizophrenia.
There's this demure Town and Country cover...
But then there's this, a different kind of play on her power and status.
2013
That brand changed dramatically once she got married to Jared Kushner and became a mother. Here she is on the cover of Redbook. Same kissy-face, different Ivanka. Fun!
The cover also burnishes another chapter in the narrative of the Self-Made Ivanka as someone who established an identity on her own terms.
The story heralds Ivanka's work ethic ("16 hour work days!"), a virtue made all the more remarkable by the expectation that, as Trump's daughter, she doesn't need to. "No wonder she makes comfortable pumps," Redbook gushes. "She needs them!" It's stories like these that helped to construct the myth of Feminist Ivanka.
That same year, Ivanka also graced the cover of actual magazine Fit Pregnancy, an actual magazine, as a Mommy Mogul dishing advice on "balancing a billion-dollar biz and a happy family."
Just another billionaire working mom trying to stay sane!
2016
Now we get into the year of Donald's presidential run.
While Ivanka flirted with high fashion before, the shift in this Town & Country cover remains remarkable.
Ivanka looks rich, regal, and powerful, a point further emphasized by the headline—"Vote Ivanka! The Trump in charge of a growing American Dynasty"—which alludes to both her expanding nuclear family and her father's expanding political influence. It's also shamelessly ingratiating—a clear sign of a publication currying favor with a power broker.
2017
Which brings us to now, and specifically, to Us Weekly.
The magazine has repeatedly fawned over Ivanka, labeling her the "Daughter in Chief," gushing over her new assignment in the White House and extolling her virtues—the home she keeps, and that she "speaks her mind!" with her dad.
It's the full-on First Lady treatment. Compare this to how Us Weekly has treated actual First Lady Melania Trump—with suspicion, and more than a whiff of scandal.
Now, as her father's presidency fails, we're getting yet another version of Ivanka. She's the strained yet persevering daughter. Instead of balancing billions of dollars and a family, she's balancing her loyalty to her father and her principles.
But, she wants to reminds us, she's Still Good.
To support this iteration of Ivanka is to applaud her for disagreeing with her father, even though her supposedly principled stands produce no discernible results.
Is anyone buying it at this point? If they don't, expect a new, improved Ivanka —Ivanka 12.0—on the cover of your nearest tabloid very soon.