As the 2016 election lurches to a close, activists in Massachusetts are already looking ahead to the 2018 midterms to protect recent gains for transgender people across the state.
In July, Gov. Charlie Baker signed into law a bill that prohibits discrimination against trans people in public spaces, a broad category that includes banks, businesses, government buildings, and crucially, hospitals and medical clinics.
Last month, though, a prominent conservative Christian group called the Massachusetts Family Institute announced that it had gathered enough signatures to challenge the law in a statewide referendum in two years. The group is also fighting the law in court, alongside conservative Christian nonprofit group Alliance Defending Freedom, which has sponsored anti-LGBTQ bills before.
With the new law's passage, Massachusetts became the 18th state to ensure legal protections for trans people in public spaces, which many activists see as a sign that trans acceptance is growing across America. But the news isn't all positive. There are 32 states that don't offer any protection on the basis of gender identity or expression, which means trans people are still being denied housing, employment, and other basic human rights. More than 200 anti-LGBTQ bills were introduced in state governments this year, most prominently in North Carolina, which became the first state to affirmatively ban trans people from using the bathroom that matches their gender identity.
The repeal effort didn't come as a shock to Kasey Suffredini, co-chair of Freedom Massachusetts, a coalition of trans activists and allies fighting to keep the law on the books. "It's not entirely surprising, given that it takes fewer than 1% of the Massachusetts population to qualify a referendum for the ballot," he told me.
G/O Media may get a commission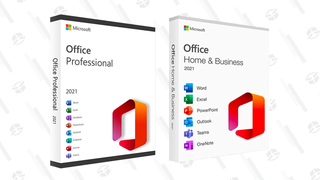 89% off
Microsoft Office Professional 2021 Lifetime License
Still, Suffredini is optimistic the law will survive.
"The majority of residents in Massachusetts are fair-minded and inclusive," he said. "There's a long history of that in Massachusetts, and when this goes to the voters in 2018 and they are asked whether to continue to protect transgender people from basic nondiscrimination, voters will say yes."
The Massachusetts Family Institute is a familiar name for many in the state who follow LGBTQ issues. It spearheaded a failed effort to end same-sex marriage in Massachusetts in 2005, though the group managed to gather 170,000 signatures.
"Massachusetts has been through a fight like this before," Suffredini said. "The same people that tried to put gay marriage on the ballot are now trying to put this issue on the ballot. This is what they do."
Andrew Beckwith, president of the Massachusetts Family Institute, says he has serious concerns about privacy and children's safety that arose from the anti-discrimination law's passage.
"There's no requirement for any type of medical documentation or diagnosis, or surgery, or hormone treatment, or anything like that. It's all based on [what] someone's internal sense of self claims to be," Beckwith told me. "So it's ripe for abuse, and we're concerned it's going to be a threat to privacy and safety—particularly of women and children in the commonwealth—because there's no way to police whether a biological man is in a women's locker room, shower, or changing area."
Beckwith has made similar comments before, but the dangers he warns of haven't materialized. Five years ago, Massachusetts became the 16th state to prohibit discrimination against trans people across several important categories, including housing, employment, and schools. Education groups were largely in favor of the new protections, backed passage of the recent law, and haven't reported the problems that Beckwith mentioned.

Like many who oppose trans rights, Beckwith is unfamiliar with trans people in his personal or professional life. He acknowledged that no openly trans people have ever worked at the Massachusetts Family Institute or have been in any way associated with it, and that he doesn't have any trans friends.
"I've certainly met some transgendered individuals," Beckwith said, using an outdated term some consider offensive. "I don't have any that are in my personal life. I have individuals who have struggled with, or lived, a homosexual lifestyle who are personal friends, but not transgendered."
It's this kind of unfamiliarity that Freedom Massachusetts is trying to combat.
"We know that if you don't know a transgender person, it's really easy to get confused by some of the myths and stereotypes and misinformation that our opponents push out, people who oppose LGBT equality push out," Suffredini said. "But we've seen time and time again when people get to know real transgender people and see that we are just like everybody else in Massachusetts, and we're just trying to make a living, just trying to put a roof over our head, folks come to be with us."
While Suffredini and Freedom Massachusetts are trying to make trans people more visible, their opponents are using every available tool roll back the state's new protections. In addition to the 2018 vote, the Massachusetts Family Institute is partnering with Alliance Defending Freedom on a lawsuit that aims to exempt churches from complying with the new law.
Both organizations have a long history of fighting against LGBTQ equality. For instance, the Alliance Defending Freedom helped craft an anti-gay bill in Arizona that then-governor Jan Brewer vetoed in 2014 following public pressure. Officially known as SB 1062 (and colloquially as the "anti-gay bill"), it would've allowed businesses to deny services based on their religious beliefs, and was widely criticized by the LGBTQ community, business leaders, and even Brewer's fellow Republicans for being discriminatory.
This bill shared an ideological underpinning with the infamous Hobby Lobby case. As journalist Eli Clifton reported, the CFO of arts-and-crafts retailer Hobby Lobby and a Hobby Lobby-affiliated company called Crafts Etc! donated $65 million in grants to the National Christian Charitable Foundation in 2009. Some of that money went to Alliance Defending Freedom, and helped fund its anti-LGBTQ work in Arizona, which the group is continuing in Massachusetts. Indeed, the alliance has received at least $44 million in donations from the National Christian Charitable Foundation.
A separate public tax document also shows that the foundation donated $2,000 to the Massachusetts Family Institute in 2010.


NCCF 990 by Anita Li on Scribd
Although anti-LGBTQ efforts are sometimes presented as local, grassroots responses by concerned citizens, there's a well-funded web of foundations and right-wing activist organizations that help coördinate these campaigns, these documents suggest. But Beckwith, the Massachusetts Family Institute president, denies this charge. "There's not some big, national conservative group that's funding—at least that's funding me," he said.
Beckwith's relationship with the Alliance Defending Freedom, however, is close.
"We are the local associate for Alliance Defending Freedom," he said. "When religious liberty issues come up, they're usually the first phone call I make."

The lawsuit brought by the Massachusetts Family Institute and the Alliance Defending Freedom has four churches as plaintiffs, but that number is outweighed by the 350 faith leaders who have signed up alongside Freedom Massachusetts to protect the law. One of those leaders is Rev. Courtney Jones, whose church has trans people in its leadership and congregation
"The people who claim that discrimination against trans persons, or the lack of full inclusion for trans persons, is somehow a hallmark of their faith—that's not the Christianity that I know," Jones told me. "That's not the Christianity my congregation knows. So my initial reaction was: They don't speak for all of us."
As for how the fight to keep public spaces trans-friendly will play out over the next two years, Suffredini says it'll look a lot like the struggle to get the anti-discrimination bill passed in the first place.
"The strategy going forward is the same strategy that we pursued successfully through the legislature over the last 18 months," he told me, "which is making sure that people across Massachusetts have an opportunity to get to know transgender people, and get to know the issues we experience so they're really able to separate the facts from the fiction."
"Massachusetts really showed you can go the other direction. You can actually do the right thing."
John Knefel is an independent journalist based in New York City. He covers national security and civil liberties for a variety of media outlets, and is the co-host of the daily podcast Radio Dispatch.