A 33-year-old transgender Honduran woman who was part of the so-called refugee caravan has died after being detained by immigration authorities.
Immigration officials identified the woman as Jeffry Hernandez, but LGBTQ immigrant rights advocates with the Transgender Law Center said she was an asylum seeker named Roxana Hernández.
A representative with the group Pueblo Sin Fronteras, which organized the caravan, confirmed Hernández was a member of the caravan.
U.S. Immigration and Customs Enforcement officials said in a statement that Hernández "applied for admission" at the San Ysidro Port of Entry in California on May 9, 2018.
G/O Media may get a commission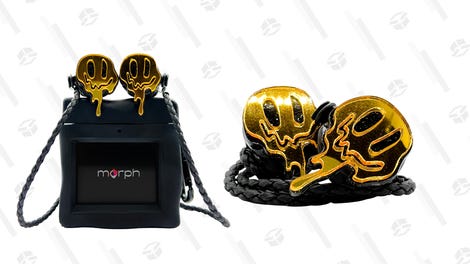 morph audio
Morph Earphones
"When she presented [herself at the port of entry] she was smiling [because] the government finally allowed her to seek asylum," Nakai Flotte, an organizer with Diversidad Sin Fronteras, told Splinter. Flotte said Hernández had to wait two weeks before officials at the port of entry would admit her.
BuzzFeed reporter Adolfo Flores interviewed Hernández when she was traveling with the caravan. Hernández told BuzzFeed she was fleeing "transgender discrimination" and that MS-13 gang members who had gang raped her told her, "we don't want you in this neighborhood, you fucking faggot."

U.S. Customs and Border Protection officers detained Hernández on May 9 and "determined that she had no status to legally enter the United States; she was processed for expedited removal," a CBP spokesperson told Splinter.

"During her time in CBP custody, Ms. Hernandez received a medical evaluation from an off-site local medical facility and was cleared for travel and detention before being transferred to the custody of ICE Enforcement and Removal Operations on May 13," the spokesperson continued.

On May 16, Hernández was transferred to the Cibola County Correctional Center, a for-profit jail facility in Milan, New Mexico, where she was detained in a special unit for transgender detainees. 

But the following day, Hernández was transferred to the Cibola General Hospital with symptoms of pneumonia, dehydration, and complications associated with HIV, according to ICE officials. She was then transferred to the Lovelace Medical Center in Albuquerque where she remained in intensive care until she was pronounced dead on May 25.
LGBTQ immigrant rights advocates are questioning the conditions Hernández was detained in while in CPB custody.
"She was processed and held for 5 days in the dreaded 'icebox' - holding cells with extremely low temperatures - in U.S. Customs & Border Protection suffering cold, lack of adequate food or medical care, with the lights on 24 hours a day, under lock & key," read a statement released on Tuesday night by Pueblo Sin Fronteras, and the immigrant rights groups Al Otro Lado and Diversidad Sin Fronteras.
The statement said Hernández "traveled over 2,000 miles through Mexican territory on foot, by train, by bus because her last aspiration and hope was to save her own life."
"She always kept it to herself and focused on surviving and escaping violence," Flotte, the organizer who made the trek across Mexico with Hernández, told Splinter. "She got sick during the icebox where they separated her from everyone else."
A 2015 report from the American Immigration Council described the infamous "icebox" as holding cells without beds that "are extremely cold, frequently overcrowded, and routinely lacking in adequate food, water, and medical care."

ICE officials declined to comment or provide more details on the conditions in which Hernández was detained. The CPB spokesperson did not address any specific claims, but said that the agency is "committed to safety and security, including meeting the health and safety needs of those persons in our custody."
ICE officials did, however, say that Hernández had entered the U.S. without authorization on three different occasions. On two occasions she "was granted voluntary return to Mexico each time since she claimed Mexican nationality when encountered by immigration officials." For her most recent unauthorized entry, officials said "she was arrested, processed and removed."

Agency officials followed up by noting that in April 2006, Hernández was convicted of theft. In May 2009, "she was convicted of lewd, immoral, indecent conduct and prostitution." In 2014, she was also convicted of illegal re-entry.
It is not unusual for transgender migrants fleeing persecution to face multiple expulsions from the U.S. before they request asylum. It's also not uncommon for transgender women to have participated in underground economy work. The unemployment rate for trans people is two to three times higher than the unemployment rate in the U.S. workforce. A 2015 national survey found about 12 percent of trans people have exchanged sex work for money, "with higher rates among women of color."
In 2014, Fusion interviewed a trans woman from El Salvador who was deported twice before applying for asylum. She wasn't able to seek asylum until a public defender made the suggestion to her.

The Fusion investigation found that on any given night, some 75 trans prisoners are detained by ICE. A significant portion are women who have requested asylum. The conditions in ICE detention for trans detainees can often be humiliating, dangerous, and even deadly.
Hernández is the sixth detainee to die in ICE custody in fiscal year 2018, which began Oct. 1, 2017.
Update, 11:14 a.m.: This story was updated to include a statement from the Customs and Border Patrol Agency, as well as Hernandez's comments to BuzzFeed.