Several high-profile transgender people have been in the spotlight recently. From painful-to-watch interviews to a groundbreaking mainstream ad campaign and Facebook's newly created custom gender options for transgender and gender nonconforming people announced on Thursday, transgender people are becoming more visible outside of the queer community.
At a recent speaking engagement hosted by the National Gay and Lesbian Task Force, Laverne Cox, "Orange is the New Black" actress and transgender advocate spoke about love and revolution.
"Justice is what love looks like in public," she said. "Trans women loving and supporting each other is a revolutionary act." And, she said that it begins with loving one's self.
In a blog post called, "Selfies to Promote Self-Love," body-positive advocate, Jessica Lovejoy, said the selfie allows us to create our own definition of beauty.
G/O Media may get a commission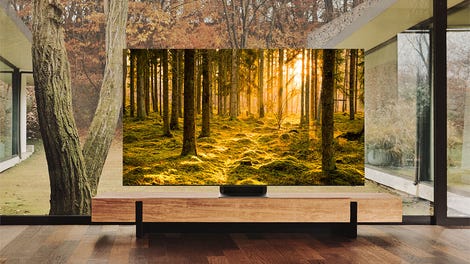 Up to 40% off
Samsung Smart TVs
"We are finally casting off our feelings inferiority and embracing ourselves and our bodies and we are proud of overcoming our hurdles, body image issues and self loathing. We share our pictures to show people that we are no longer afraid of being photographed, and that people of all shapes, sizes, genders, ethnicity and backgrounds are beautiful, because they are unique and different. Selfies are this generation's way of coping with years of body policing from the media, our friends, family and strangers. Selfies are us giving people who bullied us about our looks or weight the proverbial middle finger and saying 'Your words cannot hurt me, for I love myself. I will not hate myself because you cannot accept me.'"
And, transgender advocate, Kat Haché, recently shared her perspective on how the media treats transgender people.
"We have dehumanizing stereotypes in entertainment, so it's no surprised that we're dehumanized in the news. I think it's about controlling our own narratives."
Each photo a transgender person takes of themselves and shares on Facebook, Tumblogs, Instagram and elsewhere is, as Cox says, a revolutionary acts of self love that contributes to changing the narrative around transgender identities.
Click on the image below to see selfie submissions by some self-loving transgender people.