Bamby Salcedo describes the past month of her life in one word: "devastation." It was late August when the activist and community organizer first learned about the ongoing injectable estrogen shortage in the United States, which has been gradually impacting the lives of transgender women and transfeminine people like herself for over a year now. As the nation's supply dries up, trans people who rely on injectable estrogen are panicking.
"Members of the community are not finding out" about the shortage, Salcedo told me. "I don't think many service providers even know about it. I still have not received notice from a doctor." In fact, if it weren't for an acquaintance who works at the clinic she goes to, Salcedo, who founded the Los Angeles-based TransLatin@ Coalition in 2009 to advocate for the needs of trans Latinx immigrants in the U.S., might still be in the dark about the status of her medication, which she described as "life-saving."
Synthetic estrogen plays a crucial role for trans women and transfeminine people who choose to undergo hormone replacement therapy as a means of medically transitioning. Yet the growing disappearance of its injectable form from the pharmaceutical market has gone largely unnoticed beyond the circles of those affected. Salcedo said that she has "not seen any" media coverage of the shortage, despite the subject's constant presence on her various social media feeds. That's not surprising. In the eight weeks since Out magazine's website broke the news of the "Injectable Estrogen Shortage That's Leaving Trans Women in Crisis," very few outlets have picked up the story. This silence, Salcedo told me, must be broken.
"They would not deny a person who is diabetic their medication, right?" she asked. "Access to hormones saves lives. Not having this medication puts us in danger."
For the unfamiliar, the hormone estrogen has the ability to affect the body's expression of secondary sex characteristics such as fat cell distribution, breast development, and the appearance of pores. People taking injectable estrogen administer the hormone directly into the muscle approximately every two weeks—typically in 40 milligram doses, although less concentrated 20 milligram and 10 milligram doses are also manufactured.
G/O Media may get a commission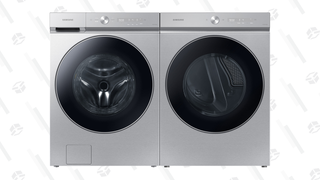 Get $500 back in credit
Last Chance: Samsung Bespoke AI Washer and Dryer Preorder
And more broadly, hormone replacement therapy—which can also include testosterone-blocking anti-androgens and, less commonly, progestogens—has the power to change the lives of trans women and transfeminine people, both psychologically and physically. Going on hormones can reduce the chances that a trans person will be misgendered when they leave their home. Going on hormones can reduce the chances that they will be harassed or targeted for violence. The world can be a violently hostile place for trans and gender nonconforming people: The majority of reported homicides in 2015 in which the victim was LGBTQ and/or HIV-affected were trans and gender nonconforming people, and over half of those people murdered were black trans women and trans women of color.
Not every trans person chooses to medically transition. Not every trans person is socioeconomically privileged enough to make that choice in the first place. But for the trans women and transfeminine people who do, Bamby Salcedo said, the regimen has the potential to make that "target" on their backs just a little bit smaller.

🚨🚨🚨
The injectable estrogen shortage, which reportedly began about 19 months ago, is the result of slow-moving corporate and bureaucratic processes stretching from private pharmaceutical companies to the federal government. These companies include Par Pharmaceutical, which manufactures brand name Delestrogen, and Perrigo Company, which is responsible for generic alternative estradiol valerate.
Heather Zoumas Lubeski, the senior director of corporate affairs at Par Pharmaceutical's parent company, said that the shortage began once the supplier for Delestrogen's active pharmaceutical ingredient, estradiol, stopped producing the material. Par has found a new supplier, but the company cannot distribute it until they have received approval from the U.S. Food and Drug Administration. Once they receive approval, the supplier will be able to ship "immediately," Lubeski said, although she could not say how long the FDA's approval process will take. Lubeski also declined to name the previous or current estradiol suppliers. Perrigo Company did not respond to a request for comment.
Medication shortages happen "all the time," said Dr. Asa Radix, senior director of research and education at New York City's Callen-Lorde Community Health Center. But usually, medical providers can switch from brand name to generic, or vice-versa, until the shortage is over. Since the FDA holdup is affecting both Delestrogen and Perrigo's alternative, that is not an option.
The effects of the shortage are still trickling down nationwide, and the availability of injectable estrogen can vary from clinic to clinic. When the preferred 40 milligram dose ran out at Callen-Lorde, the LGBTQ-focused service provider began doubling up on 20 milligram doses. When they depleted their 20 milligram supply, they started quadrupling 10 milligram doses. Due to its lower concentration, this dose requires four milliliters of fluid to be injected into the muscle in a single sitting, an experience that Radix described as incredibly "uncomfortable" for the person to whom that muscle belongs.
"We need the 40 milligram dose," they said.
The shortage has not affected the supply of non-injectable forms of estrogen at present, but many trans women and transfeminine people prefer injections over the hormone's patch and tablet forms. Some feel that injectable estrogen is more effective than its alternatives. Others do not like the fact that the patch and the tablet must be administered far more frequently than the injectable estrogen that they are used to: The patch is applied once or twice a week, and the tablet is taken daily. Understandably, some people would rather not sign up for a new medication regimen, and one that's more rigorous, especially when physical changes like breast development and fat-cell redistribution could be temporarily affected. Switching from an injection every other week to a daily tablet also makes some trans women and transfeminine people more vulnerable to involuntary disclosure of their identity, which could have life-threatening consequences should their family members, roommates, or coworkers react negatively.
It's crucial for medical providers to respect patients' wishes when it comes to the medications they choose to put in their bodies, said Sasanka Jinadasa, the capacity building and community resource manager at HIPS, a nonprofit that promotes harm reduction among people and communities impacted by sex work and drug use in Washington, D.C.. This holds true for patients with means and those without. Both groups will be directly affected by the shortage at some point, but those on the more vulnerable end of the spectrum—uninsured trans people, low-income trans people, undocumented trans people, trans people of color, incarcerated trans people—will be impacted harder.

🚨🚨🚨
The injectable estrogen shortage and the lack of awareness among those affected are just the latest entries in a transgender medical history rife with bias, discrimination, and inaccessibility. In 2015, the Movement Advancement Project found that 70% of trans people reported being discriminated against by their medical providers, while 19% said that they were refused care outright. Forty-one states offer no legal protection against healthcare discrimination on the basis of gender identity or sexual orientation, leaving many trans people to seek alternatives outside of the mainstream healthcare industry.
For many trans people, that means seeking injectable estrogen on the street or through other underground channels—all of which could be affected by the shortage, too. "Street-based hormones is a pretty readily available market," said Jinadasa. Indeed, she said, the transgender people with whom she works have never had trouble getting injectable estrogen this way, adding, "some don't even access medical providers to begin with."
While Callen-Lorde's Radix warns against the use of any medication that is not obtained through a certified medical provider, these official routes aren't an option for every trans person, especially if they are uninsured or are low-income. Even if access is made available, they might still prefer to go through a member of the community with a prescription whom they love and trust over risking yet another discriminatory interaction within an institutional system.
"People just have such bad relationships with the [healthcare] system," Jinadasa added. "They see how this system fails trans folks over and over. Even if insurance covers [hormones], they might see it as something to keep up with that's only going to fail them."
Street hormones may have offered a somewhat workable solution for uninsured or lower-income trans people until now, but if the medical shortage reaches this vulnerable community, the effects could be disastrous. The problem boils down to the fact that a lot of street hormones are originally obtained from certified medical providers in the U.S., said Jinadasa, which will disappear from the market once a provider runs out. In decreasing the overall supply of injectable estrogen, the shortage will drive up the price of hormones on the street. For a lower-income person whose lack of socioeconomic privilege drove them outside the mainstream healthcare market in the first place, such an increase would be untenable.
"It's really difficult for some people to just get places. Taking the bus or taking the Metro to go to a medical provider appointment on the other side of the city could cost $3 or $4, which might not be something everybody has," said Jinadasa. "They could use that money to buy food or they could use that money to get to a medical appointment, which doesn't seem as immediately useful. Underground markets exist for so many needs."
When those markets dry up, the people who rely on them could find themselves out of money, out of hormones, and facing grave threats to their health, safety, and wellbeing.

🚨🚨🚨
No matter where they get their hormones, all trans women and transfeminine people who take injectable estrogen will be affected by the shortage, if they haven't been already.
Suppliers told pharmacists that the injectable estrogen shortage would last until at least October, according to Out and The Guardian's reporting, but Callen-Lorde's Radix doubts that the shortage will end next month, and representatives from the companies that make injectable estrogen aren't commenting.
"This is a life or death situation for people," said Bamby Salcedo of the TransLatin@ Coalition. "If pharmaceutical companies do not take on the fact that these are our lives that we're talking about, if they don't do the right thing to save the lives of our people, they are participating in what is called institutional violence. They are sending the message that society, as a whole, thinks we are disposable. That we are not worth it. That we are not valuable. That it is OK to kill us. We need to hold pharmaceutical companies accountable. Our lives are in their hands."
Correction: This article originally stated that 40 milliliters of injectable estrogen with a concentration of 10 milligram per dose must be injected into the muscle in a single sitting. That is incorrect. It is four milliliters, not 40.
Bad at filling out bios seeks same.