Citing what she called an "epidemic" of gun violence, Sybrina Fulton, the mother of Trayvon Martin, has made the case for why she says Hillary Clinton is the 2016 candidate most capable of combating the national issue as president.
"I know Clinton is tough enough to wage this fight. I've seen her do it for years," Fulton wrote in an op-ed published by CNN on Monday.
Her son Trayvon was killed by neighborhood watch volunteer George Zimmerman in Sanford, Fl. in 2012, as he was walking home from a convenience store. The ensuing murder trial, and Zimmerman's acquittal of all charges, sparked the Black Lives Matter movement, which has been since calling for criminal justice and police reforms.
Last year, Clinton and Fulton spent some time together, and in her op-ed Fulton alludes to that time as part of what made her reach this conclusion.
G/O Media may get a commission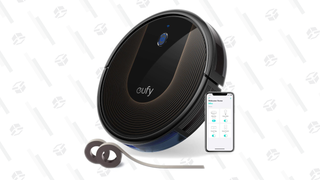 48% Off
Eufy BoostIQ RoboVac
"She knew all the statistics. But like so many, I've long since grown numb to the numbers," she wrote. "So instead, we talked about Trayvon and other families who have lost a loved one to gun violence. We talked about all of the wishes and hopes we had for their lives. And knowing we can never get them back, we discussed how to prevent more moms from losing their sons to gun violence."
As first lady, Fulton noted, Clinton convened meetings on school violence. She also advocated for the passage of the Brady Bill, the landmark gun control bill that mandated federal background checks and five day wait periods for firearm purchases.
Notably, Clinton's top challenger Bernie Sanders voted against that law—a contrast Clinton has been aggressively highlighting this month as the primary race tightens. ("Hillary Clinton is smacking around Bernie Sanders on guns," says a recent Washington Post headline.)
"Sanders did vote five times against the Brady Bill. Since it was passed more than two million prohibited purchases have been prevented," Clinton sharply said of Sanders' voting record in a October presidential debate.
As a New York Senator, Clinton then voted to extend an assault weapons ban that ultimately failed. She also voted against a 2005 that shields gun manufacturers and dealers from liability lawsuits. Sanders voted for that measure, but recently said he would reconsider.
Fulton applauded the gun control measures—expanded background checks and heavier enforcement of existing laws—that President Obama instituted last week through executive order, but says she is concerned that a Republican in the Oval Office would roll back those "sensible measures," as many have promised to do. "And many [Republicans] have shown open contempt for the simple notion that Black Lives Matter," she said. (Both Clinton and Sanders have said they also support the executive order.)
"With so many of our children's lives on the line or taken, we simply can't afford to elect a Republican who refuses even to acknowledge the problem of senseless gun violence," she wrote. "The rising generation of our young people need a president who will stand up to inaction from Republicans and indifference from the National Rifle Association."
Clinton's other calls for criminal justice reform were also highlighted by Fulton—though she left out the fact that many of those same policies Clinton is rallying against were instituted during her husband Bill Clinton's presidency, often with her outright, or implied, support.
"[Clinton] sees what I see: a criminal justice system that is not always just," she wrote. "A system that has contributed to creating a reality where just selling cigarettes, playing loud music, looking at a cop the wrong way or walking home from the store are now activities that can get you killed," she wrote, referring to the widely publicized cases of officer-involved deaths that have been reported over the last few years.
"Losing a child is any parent's worst fear. As a mother who has had to live that horrible nightmare in a very public spotlight, I hope that by speaking out, it will help focus some of that light onto a path that can help our nation find its way out of this darkness," she wrote.
Daniel Rivero is a producer/reporter for Fusion who focuses on police and justice issues. He also skateboards, does a bunch of arts related things on his off time, and likes Cuban coffee.