Comedian Trevor Noah, 31, is set to take the reins from Jon Stewart as host of The Daily Show, according to The New York Times.
Wait, who?
After all the speculation about possible big names who could replace Stewart (Amy Poehler? Tina Fey? Maybe John Oliver would come back? Brian Williams?) Comedy Central turned to a not-exactly-household name.
Here are a few points you should know about Trevor Noah, Comedy Central's historic new host.
G/O Media may get a commission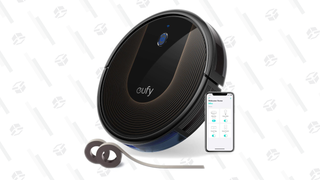 48% Off
Eufy BoostIQ RoboVac
He's originally from South Africa.
His mother is a black South African and his father is white and of Swiss-German descent. When he was born, his parents' relationship was illegal under South Africa's apartheid laws. He joked to Interview Magazine that his parents would have to stay away from him when walking down the street with him, with his father waving from across the street "like a creepy pedophile."
He talks about his childhood often in his stand-up acts.
"In the streets my father couldn't walk with us — he would walk on the other side of the road and wave at me — like a creepy pedophile," he said last year. "And my mom could walk with me but every time the police went by she would drop me — I felt like a bag of weed."
His first major role was on a South African soap opera.
He's also hosted an educational show and a radio talk show, called "Noah's Ark." In 2007, he hosted a South African celebrity gossip show called "The Real Goboza," as a sports show called "Sidyadlala."
In the U.S. in 2012, Noah became the first South-African comedian to appear on "The Tonight Show" with Jay Leno. In 2013 he did the same with "The Late Show" with David Letterman.
He just debuted on the show in December.
Noah really isn't a household name. It was only about two months before Stewart's announcement that he was leaving the show that Noah debuted as the show's senior international correspondent.
During his debut appearance, he played the role of a semi-ignorant American outsider who makes impressionable points. He riffed on relations with police and Ebola, joking that his friends told him he shouldn't go to the U.S. because he'd catch the disease.
"And I was like, 'You know what, guys? Just because they had a few cases of Ebola doesn't mean we should cut off travel there. That would be ignorant, right?'" he said.
One of his best acts on "The Daily Show" came in talking about chess.
He and Stewart had a good back-and-forth over a story that detailed how the U.S. was making an effort to recruit foreign chess players to switch their allegiance to the U.S. in time for the Chess Olympiad next year.
Watch below:
Brett LoGiurato is the senior national political correspondent at Fusion, where he covers all things 2016. He'll give you everything you need to know about politics, with a healthy side of puns.